Five interesting lawn decorations in Bonner Springs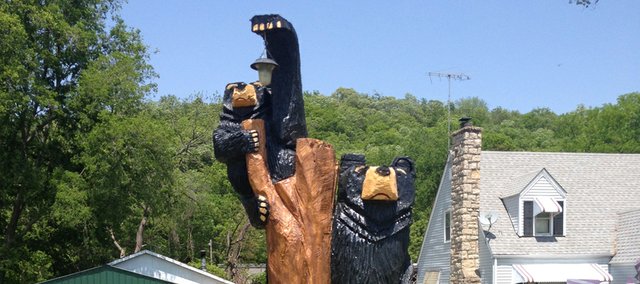 It is officially spring, the time to get out and spruce up your lawn.
And in the Bonner Springs area, a good-looking lawn is more than grass and plants ­­— it's a good place for interesting art. Or should we call it a "lawn ornament?"
Whatever you want to call it, area residents have come to know several homes by the decorative items sitting in their yards. Here are the stories behind five of those items.
Tribute for a wife
About four years ago, Martin and Peggy Clouse learned that Peggy had cancer; doctors gave her just six months to live.
About the same time, the city of Edwardsville told the Clouses it would have to cut down more of the silver maple in their front yard, right next to Kansas Highway 32. Martin Clouse said the city had been trimming back the tree for years, so he told them to go ahead and cut the whole tree down — all but 10 feet of the trunk.
Clouse said he wanted to somehow create something from it for his wife.
"I didn't know what I was going to do with it," he said. "I had an idea but I didn't know how I was going to do it."
Clouse's idea was to carve the tree, and he hoped the tree could be carved into bears. He didn't know how to go about that until Tom Edmonson stopped and asked about the remaining trunk. Edmonson has had a few trees carved into totem poles in his Lake of the Forest yard, so he gave Martin Clouse the contact information for the people who had carved his trees.
"I told them the story of my wife, and said I'd like to do this for her," Martin Clouse said. "I told them I didn't want any artificial looking bears, I wanted real bears."
Clouse painted the resulting bears himself — a large one standing next to a "tree stump," with a baby bear clinging to the top of the stump and holding a lantern. He said Peggy "really enjoyed" seeing the bears and the people who would stop at their home to take a picture with the bears. She beat the doctor's predictions, living about two and a half years before succumbing to her cancer last year in February.
Full Metal Flowers
The up to 5-foot-tall metal flowers at the end of John and Connie Harrington's driveway on Nettleton Avenue stick out — and they were meant to.
DeeDee Harrington Summers said her parents moved into their house on the hill, set far behind the houses located right along the street, in 1999. They quickly decided they needed some way to mark their driveway for visitors.
Summers and her husband, Scott, soon found the three big, metal flowers while driving through Sedalia, Mo., and thought they would be appropriate, since Connie Harrington had founded Harrington Floral in 1987. Scott welded them together and placed them in cement inside a large flower pot.
"We had to make it so nobody could steal it, so it's probably 160 pounds of concrete in bottom," DeeDee Summers said.
Scott Summers paints the flowers different colors whenever they begin to look a little dull, so they continue to catch the attention of motorists.
Fans who would like some flowers of their own are out of luck, however. The Summers haven't been able to find the business where they purchased them on return trips to Sedalia.
"People have asked us, 'Where did you get them, where can we get them,' and I don't really know," DeeDee Summers said.
Mountain of a chair
Kenny Wilcox has been building Adirondack chairs since 1988, and about 15 years ago, he began donating two chairs to Bonner Springs High School's Project Graduation auction fundraisers.
"I don't do it to make money; it's more of a hobby," Wilcox said. "I probably give away more than I've sold."
Then, about 7 years ago, his wife and daughter challenged him to build a big chair to help promote the Project Grad fundraiser.
The resulting 10-foot-tall chair took a ride in the Tiblow Days Parade that year before finding a home in the Wilcox's front yard at 819 N. Nettleton Ave. It has been there ever since, attracting attention from passersby, except for a couple of brief periods four and five years ago, when his son borrowed it to use in the Platte City, Mo., parade.
Wilcox says they often have people stop and take pictures of the chair. Recently, a church youth group of eight to 10 youngsters were able to fit in the giant chair for a photo.
Some Pig
When Telesa Tinberg began collecting pigs a little over a decade ago, she didn't know she'd end up with something that would become a Nettleton Avenue landmark.
Then about 10 years ago, her sister and brother-in-law were driving through Ottawa, Kan., about the same time the town was auctioning off their "Pigs on Parade" sculptures. They placed the winning bid on one of the pigs.
"So I got it for Christmas that year," Tinberg said.
Weighing in at several hundred pounds and made of cement, the life-sized pig wasn't a very good indoor item, so it was placed in the front yard.
When she first got it, it was covered with children's paintings of houses, as a realtor had been the one to decorate it for the "parade." Tinberg has repainted it a few times; it is currently a very pig-like skin-tone peach, but Tinberg said she plans to paint it black and white soon.
Tinberg said her grandchildren like to ride the pig, so she has used it to measure their growth in photos. And like the Adirondack chair up the street, Tinberg said many passersby have stopped to take a photo.
"I've had several policemen stop and ask if they could take a picture with the pig," she said. "We've had kids on scavenger hunts stop and take a picture with the pig, so it's just kind of a funny thing to have."
Gardening with Glass
After her husband died, Louise Verdict wanted to do something to beautify her yard — that was usually his territory.
"I wanted something that was just different," Verdict said.
She visited with her brother and sister-in-law from Mississippi, who told her about making bottle trees, whether on an actual tree or fabricated from other materials. People around the world make bottle trees, reportedly first created by African slaves in America who believed they would repell evil. Her sister-in-law emailed her pictures of several including her own, which was made of wooden poles.
"I thought, 'Oh, I can make a prettier one than that,'" Verdict said.
She found one while driving through Shawnee made with metal bars and blue bottles and was inspired to create her own. With the help of some friends, she took some concrete rebar that was cut to different lengths and painted it black before sticking them in the ground and adding brightly-colored bottles to each bar. She put it on the far side of her back yard, so it can easily be seen from the front on Second Street, just one house down from Elm Street.
"I call mine a friendship tree because I ask different friends to bring me different bottles," she said.
While she know hers isn't the only tree in Bonner — her daughter-in-law has one on Tracy Drive and she's seen another on South Bluegrass Drive — Verdict's did get an award in October from the Bonner Beautiful Commission.