THS

soccer wins regional opener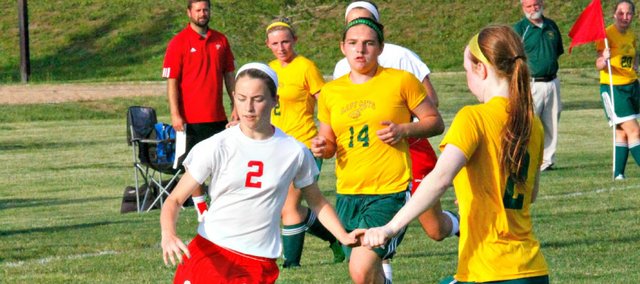 Following a 3-0 win Tuesday against rival Basehor-Linwood, the Tonganoxie High girls soccer team has itself in position for a third straight regional title.
The Chieftains punched their ticket to the regional finals with a shutout against the Bobcats at Chieftain Park. Joanna Filbert led the way with two goals as THS recorded its fourth shutout victory in a row.
Tonganoxie (9-7-1) came up empty on several early shot attempts, but cashed in on a shot by Joanna Filbert with 28:56 remaining. Filbert got a look off a corner kick from Emily Soetaert and got the ball just inside the left post for a 1-0 lead.
The Chieftains nearly doubled their advantage on a penalty kick by Madison Simmons less than four minutes later, but goalkeeper Brianne Kennedy stopped the shot attempt to keep the deficit at one goal.
The Bobcats (4-12) kept THS from scoring again until Emily Hummelgaard bounced a shot off the post and into the net with 8:59 left, and the score remained 2-0 at the break.
Filbert scored again off an assist from Simmons about 10 minutes into the second half for the final margin of victory. The Bobcats got arguably their best chance to answer on a free kick by Tiffany Hazel with 8:39 to go, but THS keeper Lauren Jackson corralled the shot attempt.
Coach Justin Seever's squad will put its four-game win streak on the line at 6 p.m. Thursday when it takes on Bishop Miege in Roeland Park. The Stags (10-6-1) handed Bishop Ward a 10-0 loss in their regional opener and are currently ranked No. 2 in the Class 4A state poll. The winner will advance to the 4-1A state quarterfinals.