Greene's walk-off powers McLouth softball to state
Bulldogs rally vs. Valley Falls in regional final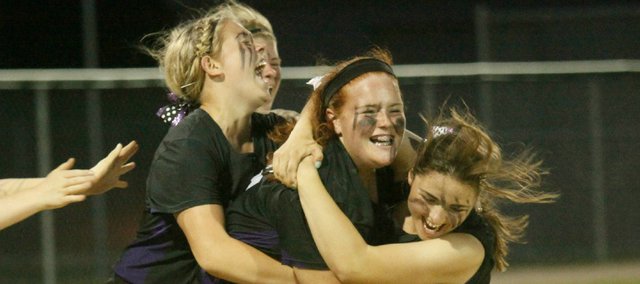 Leavenworth — Konner Patterson had seen this situation before. An early McLouth High lead evaporated with a trip to the state tournament on the line, setting up a do-or-die situation in the seventh inning.
Two walks and a passed ball gave the Bulldogs a chance. One swing of the bat later, in the words of baseball great Yogi Berra, it was déjà vu all over again.
A two-run, seventh-inning single by Shannon Greene capped off a 5-4 win against Valley Falls in a Class 2-1A regional championship game Wednesday at Sportsman Field. With the win, the Bulldogs punched their state ticket for the first time since 2011.
Top-seeded MHS (16-4) entered the seventh inning with a 3-1 advantage, but the No. 2 Dragons (14-6) scored three off Greene for their first lead of the game. Jessie Frakes walked and scored on a sacrifice fly by Paige Hale to make it 3-2. Center fielder Dominique Tullis tried to throw Frakes out at home, but a collision at the plate resulted in a run when the umpire called catcher Amber McCown for plate obstruction.
Faith Wildeman later tied it up on a throwing error by McCown, and Josee Neiberger put VFHS in front when she singled home Jessa Brinker.
The Bulldogs had the top of their order up in the home half of the inning. Wildeman got Shannon Brown to ground out, but Angela Dailey and Patterson drew back-to-back walks, prompting a pitching change by Dragon coach Michael Glissman.
While reliever Kacie Herrig warmed up in the circle, Patterson, who saw MHS fall one win short of state each of the last two years, talked to her teammates about a similar situation in the regional finals her freshman season. That year, MHS led a 2-0 lead slip away at Silver Lake, but Patterson hit a go-ahead home run in the seventh inning of a 3-2 win.
"When we were out on the field, that was the reference I made," said Patterson, who got MHS to the title game with a walk-off RBI double in Wednesday's 3-2 semifinal win against Troy. "This exact thing happened with Silver Lake, and guess what? We went to state that year. After I said that, everybody seemed very confident."
Dailey and Patterson advanced to second and third on a passed ball, then Greene drilled a shot over the center fielder's head. Patterson tore around third and scored the winning run, and the celebration was on.
"I was kind of upset that they had walked me because I kind of wanted to get a hit, but I knew Shannon was coming up," Patterson said. "As soon as I saw her hit the ball, I took off running. My dad (coach Ballard Patterson) was screaming and it just felt wonderful."
The RBIs were Greene's second and third of the contest. She had the Bulldogs' only multi-hit game, going 2-for-3.
Greene was untouchable in the circle early in the game, striking out eight of the first nine hitters she faced. She was called for an illegal pitch on her first pitch of the game — a call that was also made against her in a loss Thursday at VFHS — but quickly shook the call to strike out the side in order.
"We talked a lot about being mature and overcoming that situation," said Ballard Patterson, whose team was swept by the Dragons in a regular-season doubleheader, 10-1 and 6-2. "You have to step up and not let those types of things get in your head. That's a maturity thing, and she certainly came a long way tonight."
The Bulldogs jumped out to a 1-0 lead in the bottom of the first when Konner Patterson walked and scored on a fielding error with Tullis at the plate. Greene then drove in Dailey with a third-inning single to double the advantage. Valley Falls cut the lead in half in the fifth when Hale scored on an infield single by Paige Clayton, but Olivia Coulter threw Clayton out at second to end the inning.
The Bulldogs got the run back in the sixth when Shelby Turner doubled home Tullis, paving the way for the thrilling seventh inning.
"I told them, as long as we could go into that last at-bat tied, I felt good where we were at in the order," Ballard Patterson said. "We were down by one, so we had a little bit of work to do to get someone on base. I knew Shannon was going to get a big, big cut."
Greene went the distance in the victory, giving up just five hits and striking out 13.
MHS will have more than a week off before it opens state competition May 29 in Great Bend. An official bracket has not yet been released, but other state qualifiers are Cottonwood Falls-Chase County, Spearville, Brookville-Ell Saline, Hillsboro, Oswego, Udall and Yates Center.
McLouth 3, Troy 2
MHS couldn't hold onto an early 2-0 lead in Wednesday's semifinal against fourth-seeded Troy, but got a walk-off hit from Konner Patterson in the bottom of the seventh to advance to the championship game.
Dailey doubled with one out in the seventh, bringing Konner Patterson to the plate. The Bulldog senior hit a shot to left field, scoring Dailey and setting up a rematch with Valley Falls in the finals.
"I didn't know if she was going to hit it out or just smoke it, but I knew she was going to take a big cut," Ballard Patterson said.
Brown gave the Bulldogs the lead in the first when she led off with a walk, stole second and third and came around to score. Turner made it 2-0 in the second when she singled and scored on a Bailey Scott sac fly, but Troy answered with a run of its own in the top of the third when Andrea Stock reached on an error and scored on a triple by Caitlyn Anderson. Anderson tied the game two innings later, driving in Allie Budine.
Dailey pitched into the seventh inning, but Ballard Patterson replaced her with Greene with a runner on first and one out. Greene retired the next two hitters, setting the stage for Patterson's game-winner. Dailey gave up eight hits in the start, striking out six and walking just one. MHS banged out 11 hits against Budine, including two each by Konner Patterson, Turner and Greene.
McLouth 5, Valley Falls 4
VFHS 000 010 3 — 4
MHS 101 001 2 — 5
McLouth 3, Troy 2
THS 001 010 0 — 2
MHS 110 000 1 — 3