THS

soccer season ends with loss at Miege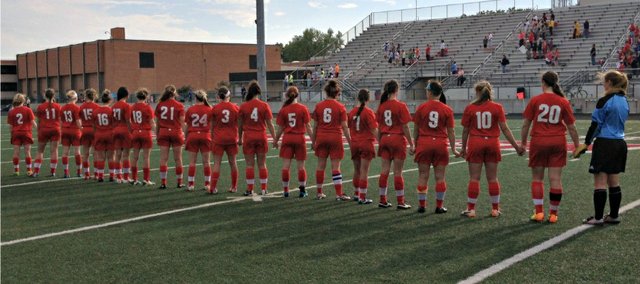 Roeland Park — Two goals in a span of just 28 seconds set the tone Thursday in Tonganoxie High's 4-0 loss to Bishop Miege in a Class 4-1A regional championship game at Dixon Doll Stadium.
Playing against a stiff wind in the first half, the Chieftains (9-8-1) spent most of the game's opening minutes defending their own goal. The No. 2 Stags (11-6-1) had two near-misses on back-to-back corner kicks about 10 minutes into the half, and the THS defense thwarted numerous other shot attempts to keep the game scoreless for the next 15 minutes.
Miege got another corner kick opportunity at about the 16-minute mark and cashed in to take a lead it would relinquish. Cathy Rometti fired into a group of players in front of the goal and Hannah Belfield emerged with the ball. Belfield got the ball past Chieftain goalkeeper Lauren Jackson with 15:42 remaining.
Abbie Hair doubled the Stag lead just 28 seconds later when she got behind the defense and got the ball just inside the right post.
"Honestly, it kind of deflated us a little bit," coach Justin Seever said. "Playing into the wind and playing that much defense, once that first one leaks, the risk is always there that the second one will get snuck in, too. On the second one, we kind of overcommitted and tried to shut down the ball because we were so concerned, then they ended up slipping behind us."
Rometti added a goal of her own with 3:02 left in the half, and Miege took a 3-0 lead into the break.
THS had scoring opportunities with the wind at its back in the second half, but couldn't crack Miege's defense. Maggie Mannebach scored the Stags' fourth and final goal when she headed in a pass from Rometti with 18:49 to go. Emily Soetaert got a chance to answer on the other end about 30 seconds later, but her shot attempt was corralled by keeper Shea Myer.
The Chieftains' only other real scoring opportunity came on a shot by Madison Simmons with 8:21 to go, but Myer made another stop to keep the shutout intact.
"We came out playing well in the second half, but we could really get much going offensively," Seever said. "When you're playing that much defense, it's hard to get your (midfielders) up in the attack, so our offense kind of stalled out."
Seever's squad failed to reach the state quarterfinals after doing so each of the last two years, but finished with a record above .500 for the second straight year — the only winning seasons in program history. Thursday's loss marked the final career game for seniors Soetaert, Simmons, Taylar Morgan, Aly Bartholomew and Alissa Donnelly. Simmons and Bartholomew were four-year starters and Soetaert leaves as the program's all-time leading scorer.
Next year's Chieftains will include a plethora of underclassmen who now have a full season of varsity experience. This year's varsity roster included three juniors, four sophomores and eight freshmen.
"It just shows that our potential is pretty high," Seever said. "If we want to take that next step to get into the top four of our region, we're going to have to put the extra work in all summer. If we train all summer and they play in the winter, we're going to be a pretty good team. I think the potential is definitely there."