Tonganoxie American Legion groups place flags at military graves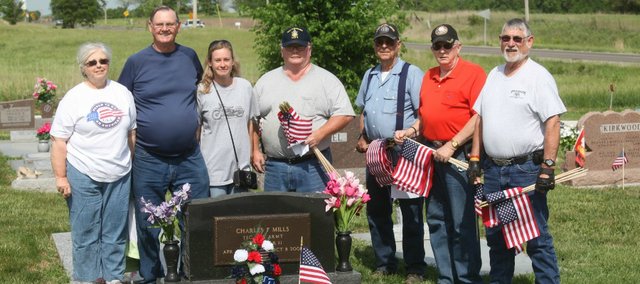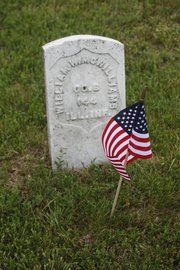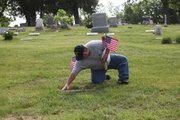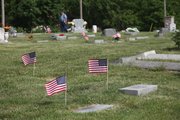 Don Harden, down on one knee, places a small U.S. flag at an old gravestone before patting the top of the veteran's headstone.
William W. McWilliams was the veteran's name. He served in Company B of the 144th Illinois Infantry.
According to civilwar.illinoisgenweb.org, McWilliams was in the infantry, which existed from 1864-65. McWilliams served during the final year of the Civil War.
Harden hopes that one day the grave of each veteran has its own flag flying for Memorial Day.
Harden, post commander for Tonganoxie's American Legion Post 41, as well as six other Legion Rider, Women's Auxiliary and Post 41 members set out Friday to put flags at veterans' graves in Hubbel Hill, Maple Grove and Sacred Heart cemeteries.
Roughly 200 flags were placed among the three cemeteries.
"We're honoring those who have sacrificed for our country," Harden said. "That's what we're trying to do."
Women's Auxiliary member Connie Kleinschmidt suggested that the groups come together to place the flags throughout the cemeteries.
She said it was something that she helped with in Bonner Springs and Eudora and wanted to do the same in Tonganoxie.
"I just felt that it needed to be done," Kleinschmidt said. "They worked hard and made a place for us. So we need to show our respects."
The new tradition complements Tonganoxie VFW Post 9271's efforts of placing full-size American flags throughout downtown Tonganoxie and at the cemeteries. Local Boy Scout Troop 357 assist VFW members with the process.
Kleinschmidt said she and others walked the cemeteries in advance of Friday's placing of individual flags.
They created maps showing where veterans' gravestones could be found. On Friday, they were able to find more plots of veterans.
"We're not guaranteed we've got them all," Harden said. "Obviously you don't know what you don't' know until you don't know it."
But the American Legion groups now have a starting point for placing flags for future Memorial Day weekends.
Friday, they helped improve one veteran's grave. A widow approached a Legion member about trading out her husband's tattered flag with a new one.
Harden said that family members can contact the American Legion if they found that any of their loved ones who served in the military didn't have a flag placed at their relative's grave.
They can contact Harden through the group's Facebook page, American Legion Post 41.
The VFW had a ceremony Sunday at VFW Park, while the American Legion offered Monday afternoon services at both Hubbel Hill Cemetery west of Tonganoxie on Kansas Highway 16 and Maple Grove/Sacred Heart just south of Tonganoxie on U.S. Highway 24-40.
Gary Sanford, retired chaplain at the Leavenworth Veterans Administration Hospital, and the Rev. Jeff Clinger from Tonganoxie United Methodist Church spoke at the Monday services.
Harden said the placing of individual flags will be a welcome site for families visiting deceased veterans for many Memorial Day weekends to come.
"It lets them know we remember them," Harden said.