Tonganoxie, Linwood girls compete in Shrine Rodeo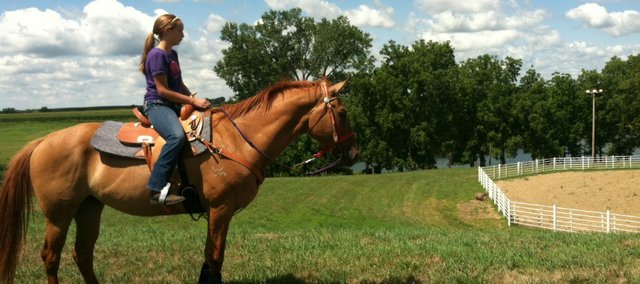 Emmie Noyes is no stranger to the Abdallah Shrine Rodeo.
It's just that this year she was on the other side of the fence.
Emmie, who will be an eighth-grader at Basehor-Linwood Middle School in the fall, has been coming to the rodeo the last six years.
Her grandfather also is a Shriner.
"I grew up going to it every single night and every single day," Emmie said about the Memorial Day Weekend competition.
"I was watching when I was 8 or 9 and I thought, 'That's what I want to do.'"
She got into barrel racing, which has plenty of techniques to tackle once a competitor gets in the arena.
"Just remember to do everything once you're in the arena and under all the stress," Emmie said, such as sitting down in the saddle.
She competed Friday night for the first time at an Abdallah Shrine Rodeo.
Though Emmie, at age 13, might be one of the younger barrel racers at the rodeo, she has company — and a friend.
Demi Hull, 12, will be a seventh-grader at Tonganoxie Middle School.
She's been riding since last August, "but I've been on a horse my entire life," she said.
And it's something that never gets old.
"When I first stated my racing, it was just basically fun and I wasn't nervous because I really like riding my horses," Demi said. "And I always knew whether I did good or not, it was just something fun to do. I never really got nervous when I got out in the arena."
Demi has had some success in her early career, as she's won about $500 total in competitions.
Both Emmie and Demi are traveling to shows about every other weekend.
Both girls stay fairly local with their shows. Emmie noted that the recent equine herpes virus outbreak, such as the one in Colorado, has her staying local with shows.
Demi has competed in Lincoln, Neb., and Columbia, Mo., but generally has stayed close to home like her friend.
Both hope to one day compete professionally in rodeos.
"I would love to be a professional barrel racer," Demi said. "I want to win a scholarship to college, and I want to be a vet."
Juggling two careers — professional barrel racer and veterinarian — might be a tall order, but Demi is ready for it.
And she thinks having Emmie alongside on the circuit would be just fine. Emmie also wants be a professional barrel racer.
"That'd be awesome to have someone that I can call up on the phone," Demi said. "We can talk and hang out. It would be a lot of fun."
The Shrine Rodeo provided her the opportunity to perform in front of friends, which was exciting to be close enough to have her friends there to support her.
She also competed in a Christian Youth Rodeo Association rodeo Saturday and Sunday near Perry.
Emmie said she was right at home at the Leavenworth County Fairgrounds and the Abdallah Shrine Rodeo.
"This is the rodeo when I fell in love with the sport and started meeting new people there," she said.