Chieftain baseball finalizes state preparation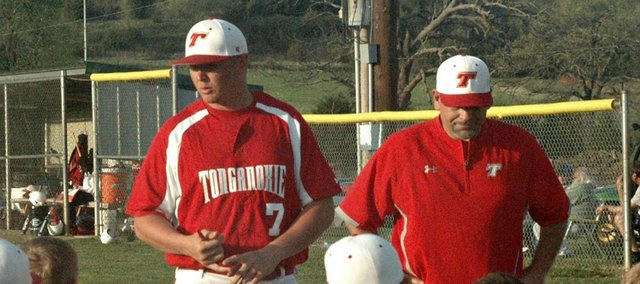 Related document
Walk-off winners
A photo gallery from Tonganoxie's regional championship win against Basehor-Linwood is available on The Mirror's Facebook page.
After more than a week of preparation, the Tonganoxie High baseball team is finally ready to hit the road to its first state tournament in 22 years.
The Chieftains (15-7), now nine days removed from their 2-1, nine-inning win against rival Basehor-Linwood in the regional finals, will depart for Salina on Thursday morning. They are the No. 6 seed in the Class 4A-I state tournament and will open against a Frontier League opponent in No. 3 De Soto (17-4).
The Wildcats and Chieftains took similar paths to state as top seeds in their respective regional fields. They both outlasted late comeback attempts by No. 4 seeds for one-run wins — De Soto against Bonner Springs and Tonganoxie against Piper — then held on for low-scoring victories in the finals. DHS advanced to its second straight state tournament with a 1-0 win against Bishop Miege.
"They're an extremely talented team," THS coach Mitch Loomis said. "They've got a lot of great kids with good baseball skills. They've got a couple kids who can run it up in the upper-80s on the mound, and they were down there last year. They know what's going on, so we're certainly have our hands full."
THS enters its first-round matchup on a five-game win streak, including three one-run victories. The Chieftains closed out the season on an 8-3 tear with their only losses coming to fellow 4A-I state team Paola and Kaw Valley League champion Mill Valley.
A win Thursday against De Soto would guarantee THS two more games, while a loss would mean the end of the road. If the Chieftains defeat the Wildcats, they'll play the winner of No. 2 Andale/Garden Plain and No. 7 Rose Hill at 1:30 p.m. Friday for a spot in the title game.
"Our mindset is we don't want to go all the way down there just to lose," senior Shane Levy said. "We might as well go down there and try to get to the championship game and win the whole thing. We just need to focus a little bit more and get our minds right."
Other first-round matchups are No. 1 Fort Scott against No. 8 Andover Central and No. 4 Topeka-Hayden — the 2013 Class 4A state champ — against No. 5 Paola.
Here are some additional notes on the Chieftains' first state trip since 1992:
• Current THS assistant coach Shawn Phillips has played a role in each of Tonganoxie's state tournament runs, as he was a sophomore on the 1992 team that took third at state. That team, coached by Chris Herron and Andy Gilner, finished with the same 15-7 record that the 2014 Chieftains currently sport.
"There have been some really good baseball teams to come through here that didn't realize that opportunity," Phillips said. "Besides just the state team that I played on, there were several years after that that had quality teams. Coach Loomis and his dad (Phil Loomis) have also had some very good teams that missed out. With there only being two state tournament teams, being a part of both in my hometown, that's very special."
Phillips also played on teams that won back-to-back KVL titles in 1993 and 1994. The Chieftains went 19-3 his senior year, setting a single-season wins record that still stands.
• The 1992 Chieftains went 2-1 at state, which took place at Kansas State University's Frank Myers Field in Manhattan. They avenged two regular-season losses to Piper with a 1-0 win in the opening round, then suffered a 6-4 loss to eventual state runner-up Nickerson in the semifinals. They rebounded in the third-place game, defeating Hays-Thomas More Prep-Marian, 4-1. Baxter Springs defeated Nickerson in the state championship game, 8-1.
• Like Phillips, Loomis also has state experience from his time as a high school player. He helped Topeka-Seaman win a Class 5A title as a senior in 2004. The Vikings also went to state Loomis' sophomore year, but he wasn't on the varsity roster.
• Thursday's game will provide a fourth installment in an already storied rivalry between Loomis and De Soto assistant coach Brett Hothan. The coaches played at rival high schools in Topeka — Loomis at Seaman and Hothan at Shawnee Heights — before playing at Dodge City Community College and Cloud County Community College, respectively. They later met again as rivals when Loomis transferred to Northwest Missouri State and Hothan to Pittsburg State.
• The Chieftains and Wildcats are former league rivals, as they were both charter members of the current Kaw Valley League, which founded in 1983. De Soto left for the Frontier League in 2003. The Wildcats won the last meeting between the two teams, 5-2, in a regional semifinal game on May 17, 2006.
• Loomis also has personal ties to the tournament's top seed, as Fort Scott head coach Josh Regan was Loomis' assistant on the THS junior varsity team in 2008 — his first season in Tonganoxie.
• The baseball team's 22-year state drought was the second longest for any THS team in a head-to-head team sport. Boys basketball owns the only longer drought, not having been to a state tournament since 1984. All other eligible sports have sent at least one team to state since 2006.