MHS

softball shifts focus to state tourney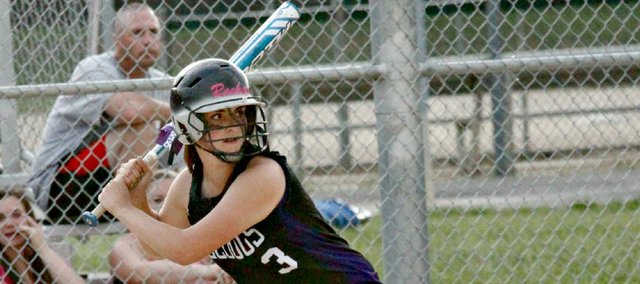 Related document
How it happened
A photo gallery from McLouth's regional tournament wins is available on The Mirror's Facebook page.
McLouth — With a pair of walk-off wins still fresh in their minds, members of the McLouth High softball team are ready to put their season on the line against some of the state's best.
One week removed from back-to-back, one-run regional victories, the Bulldogs have hit the road to Great Bend for their first-ever appearance in the Class 2-1A state tournament. They punched their state ticket by winning a regional tournament in Leavenworth, defeating Troy, 3-2, and Valley Falls, 5-4.
MHS (17-4) is the No. 6 seed in this week's state tournament and will open against No. 3 Hillsboro (21-2) at 7 p.m. Thursday at Great Bend Sports Complex. The Trojans, coached by Stephanie Sinclair, advanced out of the Moundridge regional, defeating Sterling, 8-3, and Inman, 7-0.
Hillsboro hits better than .500 as a team and has averaged 10.4 runs per game in 2014.
"The main thing is being able to keep a young group focused," said coach Ballard Patterson, whose starting lineup features just two seniors. "I think the biggest challenge this year has been maintaining focus when the wheels come off and not letting one error turn into two or three."
The Bulldogs will counter the Trojans' high-powered offense with sophomore pitcher Shannon Greene. Greene was the hero in last week's regional tournament, striking out a combined 14 hitters in 7.2 innings of work and hitting a game-winning, two-run single against Valley Falls in the championship game.
Junior Angela Dailey has served as the Bulldogs' No. 2 pitcher, complementing Greene's high-velocity approach with a myriad of off-speed pitches.
"It's hard to prepare for a pitcher like Shannon and Angela because they're incredibly different in the things that they do," Patterson said. "Unless you have a way of simulating great velocity with good movement, you can't prepare for Shannon. If our offense comes alive and gives her a couple runs to work with, she'll be able to keep them off."
A victory Thursday would guarantee MHS two more games, while a loss would end the Bulldogs' season. If McLouth wins, it will face the winner of No. 2 Brookville-Ell Saline and Spearville in a semifinal at 10 a.m. Friday. Other first-round matchups are No. 1 Cottonwood Falls-Chase County against No. 8 Oswego and No. 4 Udall against No. 5 Yates Center.
Senior Konner Patterson, a three-time All-State selection, was the only current Bulldog to play on the last MHS state team in 2011. That team fell to Larned in the first round, 4-2.
"She's kind of our rock we lean against when we need that big hit or that big play," Ballard Patterson said of Konner. "All through her career, she's had enormous hits. I'm not worried about her at all. I don't think nerves will be a problem for her, so the other kids can take that as an example."
This is McLouth's fourth state appearance overall — all under Ballard Patterson — but the previous three were in the 3A tournament. All state appearances have come since 2006. The Bulldogs are 1-2 in first round games. The 2008 team, which finished third at state, defeated Herington/White City in the first round, 1-0, then suffered a 5-0 loss to Hays-Thomas More Prep-Marian in the semifinals. It rebounded with a 1-0 victory against Riverton in the third-place game, capping off a 22-1 season.
The Bulldogs' first-ever state appearance came in 2006. That team was also a No. 6 seed and dropped a 1-0 decision to Herington/White City in its opener.