THS

baseball drops heartbreaker in state opener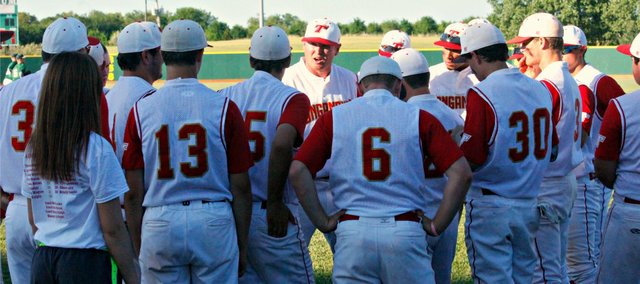 Salina — After a roller coaster ride of a seventh inning, the Tonganoxie High baseball team's first state trip in 22 years came to a heartbreaking end Thursday.
Two throwing errors and a passed ball in the seventh doomed the Chieftains, who couldn't hang on to a two-run lead in an 8-7 loss to De Soto at Dean Evans Stadium.
The sixth-seeded Chieftains (15-8) found themselves in a 5-5 tie with the No. 3 Wildcats (18-4) entering the final inning, then broke through for two unearned in the top half of the frame. Tyler Novotney singled with Colten Weaver on second, and Weaver scored on a throwing error by Clayton Hancock. Travis Woods then singled in Novotney, giving THS a two-run advantage.
Woods struck out Cooper Lee to lead off the bottom of the inning, but back-to-back singles by Trenton Brents and Dylan Holden put runners on the corners, and Greyson Jenista drove in Brents to make it a one-run game. Tonganoxie then got a double play opportunity on a ground ball by Hancock, but a fielding error by second baseman Connor Wentz-Hall loaded the bases. Holden scored on a passed ball to tie the game, then Woods intentionally walked Maxwell Taulbee, loading the bags again.
Following a Tyler Mars strikeout, Kendall Freeman plated Jenista with a single to center field, bringing an end to the Chieftains' season.
"They earned a lot of the runs they got," coach Mitch Loomis said. "We knew they could hit, and they came up with big hits when they needed to."
THS struck first, scoring four runs in the second. Billy Kelley was hit by a pitch with the bases loaded, Weaver beat out an RBI infield single, Brady Swedo drew a bases-loaded walk and Novotney drove a run in on a fielder's choice at second. De Soto answered with a five-run third, in which it sent 10 hitters to the plate.
THS evened the score when Thomas Minor scored on a wild pitch in the fourth, and neither team scored again until the seventh.
"I think (Woods) had a lull where he wasn't sharp in the middle innings, but I talked to him about having to step it up," Loomis said. "Even when he was tired, he went down and found another gear. That's what the great ones do."
Woods allowed 10 hits in a complete-game effort. He struck out five and walked two in his final career start. THS combined for seven hits off four Wildcat pitchers. Novotney had the only multi-hit game, going 2-for-4 with a pair of singles. Novotney, Woods, Weaver and Kelley each drove in a run.
The loss marked the last game for Woods, outfielder Shane Levy and manager Ali Bryant. It capped off a historic season for Tonganoxie, in which the Chieftains tallied their most wins in five years and earned their first state bid since 1992.
"It's been incredible," Loomis said. "This team, on paper, doesn't look as good as all the other teams, but we found ways to win. We just showed we belong with the best teams in the state. I was proud of our kids."
De Soto went on to win the state title. The Wildcats defeated Rose Hill in the semifinals and fellow Frontier League member Paola in the title game, finishing 20-4.
De Soto 8, Tonganoxie 7
THS 040 100 2 — 7 7 3
DHS 005 000 3 — 8 10 4