THS

senior Johnson wins state triple jump title
Snyder third in shot put, Griffin fourth in high jump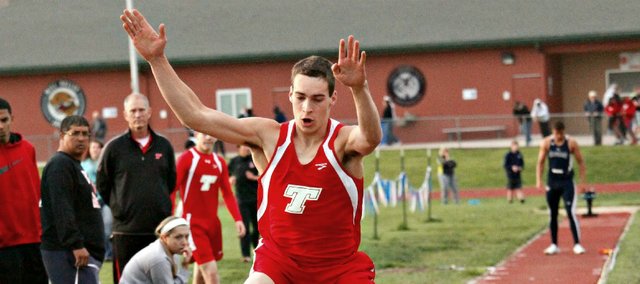 Two years after his first-ever high school track meet, Tonganoxie High senior Ben Johnson ended his career on the top step of the state awards podium.
Johnson, a three-event state qualifier, won a Class 4A state title in the triple jump, breaking his own school record with a distance of 45 feet, 2 inches Friday at Wichita State University's Cessna Stadium.
One week after setting a THS record of 44-.25 at a regional meet at Basehor-Linwood, Johnson beat out state runner-up Destin Downing of Coffeyville-Field Kindley by six inches at state. Johnson sat in third place with one jump remaining, then re-wrote the Chieftain record books for the second time in as many weeks. The title became official when Downing — the only jumper left behind Johnson — only went 43-1 on his final attempt.
It was the first state appearance in the event for Johnson, who missed the cut as a junior — his only other high school season.
"I worked in the weight room over the summer and put in a lot of form work with coach (Al) Troyer in the offseason," said Johnson, who has signed with WSU as a decathlete. "I kind of taught myself how to do it last year, but having a coach that knew what he was doing this year made a big difference."
The triple jump title is Tonganoxie's first since Jacob Walker won the event in 2003 and the first boys gold medal in any event since DJ Lindsay won the 400-meter dash in 2010.
In his state debut, fellow senior Cody Snyder complemented Johnson's state title with a third-place finish in the shot put (51-11). He became the first Chieftain boy to medal in the event since Tyler Stockman, who took fourth in 2012. Like Johnson, Snyder clinched his medal on his final attempt of the day.
"The kids came out and competed as well as you have possibly expected," boys head coach Scott Peavey said. "Ben and Cody had some unbelievably clutch performances that came down to their very last attempts in the finals. They really showed their character and competitiveness."
On the girls side, senior Haley Griffin capped off her decorated high jump career with a fourth-place finish (5-2). The THS record-holder at 5-8, Griffin leaves the program as a four-time top-10 finisher in the event, including top-four performances in each of the last three years. Chanute's Madi Rollins won the event with a jump of 5-4.
"(Griffin) was pretty good at keeping her emotions in check, so if she was nervous, she didn't show it," girls coach Preston Troyer said. "I expected it to be a competitive field, but I didn't expect 5-4 to win it. I expected them to battle, and that's how it turned, but I thought it would be more in the 5-6 or 5-8 range."
Griffins' finish accounted for the THS girls' only four points. Like Johnson, she'll continue her track and field career next season as a Shocker.
Johnson also ran in the 110-meter hurdles Friday, just missing the finals with a ninth-place time of 15.6 seconds. He and junior Devan Smith capped off the boys' weekend in the high jump Saturday, finishing ninth (6-2) and 13th (5-10), respectively.
The boys finished with 16 points — their highest team score in 2010. It was the final meet for Peavey, who has taken a job in the Gardner-Edgerton school district.
"It's kind of bittersweet, but it really just shows the overall strength of the program," Peavey said of the boys' performance. "The assistant coaches are just top notch, and the kids have as great of character and work ethic as anywhere I've ever seen. On that day, Ben and Cody definitely embodied what it means to be a Chieftain, and they did it on the state's biggest stage."
The girls 4x800-meter relay team of Emily Chambers, Kourtni Freemyer, Sophia Wetta and Tressa Walker was less than two seconds of a medal, finishing ninth Saturday with a time of 10:16.52 — just 1.33 ticks behind eighth-place Girard. The team, which returns all four runners next season, finished ahead of two teams it lost to in regionals in Basehor-Linwood and Bishop Miege.
"They were pretty upset about (ninth place), to be honest, but I took some time to explain that they did a great job," Preston Troyer said. "It's going to motivate them. Just getting there, I was excited for them, and then they ended up beating two other teams that beat us at regionals. It was their second-best time of the year, so I was extremely proud of them."
Junior Jessica Minear was the final Chieftain to compete Saturday, taking 16th in the triple jump (30-5.25). It was the first state appearance for Minear, who hadn't competed in the event before this season.