Tonganoxie tree lighting Saturday
Festivities will include snow machine inside downtown business, new locale for tree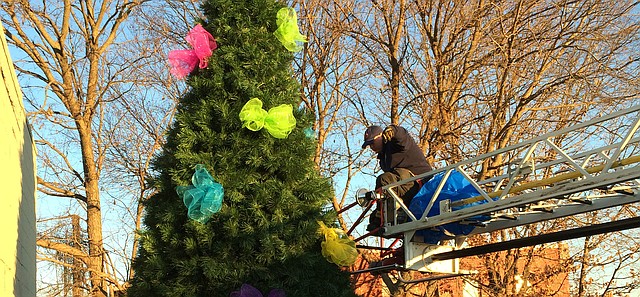 Editor's note: The Graves Dance Studio performance slated for 3 p.m. was inadvertently omitted from the initial story about the tree lighting and accompanying activities. The performance will run until 3:45 p.m. Saturday.
A cold spell has cast its bone-chilling temperatures on the area, but temperatures are supposed to reach the low 50s Saturday, just in time for the Mayor's Christmas Tree Lighting ceremony and festivities.
The event is planned to start at 2:30 p.m. Saturday in downtown Tonganoxie. There's a 50 percent chance for rain later that day, but organizers are hoping Mother Nature cooperates long enough for the outdoor activities.
Santa Claus and the Grinch will be making appearances this year, as downtown will have a Whoville theme this weekend that will carry on throughout the holiday season.
Events will start at 2:30 p.m. with carriage rides, while story time will begin at 3 p.m.
Several youths will perform musical entertainment, as well as dance routines.
The schedule for Saturday's events is as follows:
• 1-5 p.m., snow machine inside Creative Nail
• 2:30-4:30 p.m., carriage rides.
• 3-3:30 p.m., story time at Tonganoxie Public Library.
• 3-3:45 p.m., Graves Dance Studio.
• 3:45-4:15 p.m., jazz band performance.
• 4:15-4:30 p.m., Chieftain Singers perform.
• 4:30-4:45 p.m., Dance Strong performs.
• 4:45-5 p.m., Tonganoxie Middle School seventh-grade choir performs.
• 5-5:20 p.m., Tonganoxie Elementary School students perform.
• 5:20-5:30 p.m., Mayor Jason Ward will give a speech.
• 5:30 p.m., Santa arrives and the tree lighting takes place at the pocket park just south of Tonganoxie City Council Chambers at Fourth and Delaware streets. Performances will take place at the pocket park as well.
• 6 p.m. Christmas carol sing-a-long at The Jewel on Main.
Crafts and face painting will be offered at Tan Time, 620 E. Fourth St., while Santa Claus and the Grinch will be meeting youths in council chambers, 321 Delaware St., just north of the pocket park.
Creative Nail, 626 E. Fourth St., will have activities from 1-5 p.m., while Talette's Café, 416 Fourth St., will offer cookie decorating.
Downtown stores also will be open for Christmas shopping.
Entrepreneurs Achieving Success Together will be decorating the downtown area with a Whoville theme. EAST member Rachel Kelly will be painting various stanzas of "How the Grinch Stole Christmas" on windows of businesses that want the artwork. Between 12 and 14 stanzas from the book will be displayed in windows, along with the decorations.
Businesses are encouraged to decorate their storefronts in the Whoville color scheme: lime green, pink, yellow, purple, turquoise and orange.
Ward also is continuing his annual food drive challenge with Tonganoxie Elementary School students.
Students in kindergarten through fourth grade have until Thursday to bring in canned food items. The class with the most canned items brought in will get to help Ward at the tree lighting Saturday.
The class that gathers the most items by Dec. 12 will have a pizza party with the mayor at a later date. All proceeds will go to the Good Shepherd Thrift Store and Food Bank.