McLouth boys loaded with seniors in Graf's 2nd year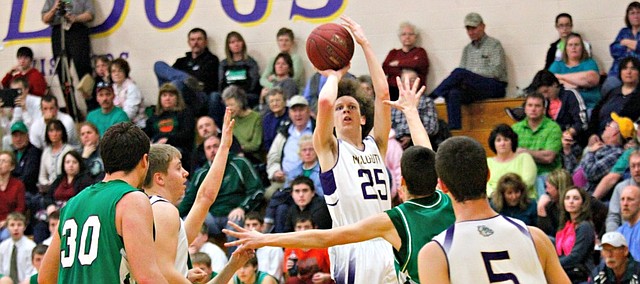 2014-15 schedule
2014-15 schedule
Dec. 5 — at JCN
Dec. 9 — vs. Horton
Dec. 12 — vs. Immaculata
Dec. 16 — at Oskaloosa
Dec. 19 — vs. Pleasant Ridge
Jan. 6 — at Maur Hill
Jan. 9 — at Jackson Hts.
Jan. 16 — vs. Valley Falls
Jan. 19-24 — McLouth Inv.
Feb. 3 — vs. JCN
Feb. 6 — at Immaculata
Feb. 10 — vs. Oskaloosa
Feb. 12 — at Horton
Feb. 13 — at Pleasant Ridge
Feb. 17 — vs. Maur Hill
Feb. 20 — vs. Jackson Hts.
Feb. 24 — at Heritage Chr.
Feb. 27 — at Valley Falls
March 2-7 — Sub-state
McLouth — With a full summer of work under their belts, a roster full of seniors and a coach no longer in his first year, the McLouth High boys hope the 2014-15 season will be one of new heights.
The Bulldogs are nearing the beginning of coach Jason Graf's second season, and coaches and players agree they've made significant progress since Graf's first preseason at MHS. Led by six seniors, the team got a head start on the upcoming season when it played in seven summer tournaments, including a trip to a camp at Kansas State University.
The offseason work has already paid off, they said, as they prepare to improve on last year's 10-11 record and sixth-place finish in the Northeast Kansas League.
"We've played a lot of summer ball this year, just getting our new offense and defense down and everything," senior Jack Courtney said. "We had a couple younger guys play with us this summer, so that kind of helped. This year, we've got a little more feel of what (Graf) wants us to do."
Graf must replace more than 56 percent of the team's scoring and 41 percent of its rebounding from last year following the graduation of starters Nick McAferty, Drew Cerny and Dylan Dover. But, he returns five seniors who saw significant varsity time last year in Courtney, Nic Bair, Wyatt Hermann, Sam Rainey and Kevin Gann.
Courtney, Bair, Hermann and Gann combined for 27.7 points and 22.2 rebounds per game in 2013-14. Bair led all returning players with 11.3 points, while Hermann was the team's leading rebounder with 10.8 boards per contest.
Add fellow senior Jakob Willits to the mix, and Graf has the services of six fourth-year players. According to the Gann, though, perhaps the biggest advantage of such a large senior class can't be found on the stat sheet.
"It kind of helps since we've been playing together since we were kids," he said. "We have more chemistry. We can just play within ourselves and we know what we're capable of doing."
Graf echoed those thoughts, adding the camaraderie among his players has grown since he first arrived in McLouth.
"They've been together since they were in kindergarten, so they know each other," Graf said. "The biggest thing I've seen in they all care about and believe in each other. I've been preaching 'one family, one team,' and they're all like brothers.
"We fight like brothers at times, but that family bond and sacrifice for the man next to you, you can't replace that."
MHS had somewhat of a roller coaster season in Graf's first year, starting 7-3 but going just 3-8 in its final 11 games. The Bulldogs rattled off six straight wins in January, reaching the McLouth Invitational Tournament title game. The team will try to utilize its added experience to turn that midseason success into a late-season run this winter.
"We just have to focus on playing like a team and not individually," Hermann said. "Last year, we had guys just wanting to be a one-man team and score, but this year, we'll all focus on playing together."
Graf's squad opens its season Dec. 5 at NEK opponent Jefferson County North, then will host Horton four days later. The 28th annual McLouth Invitational is set for Jan. 19-24.