Nutter: Tonganoxie, it's been a great ride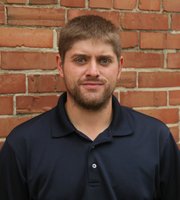 In December 2011, I drove into a small town I'd never heard of in northeast Kansas for my first day of work. In a few days, I'll leave that same town, which I have truly come to love and call my home.
I'll be leaving Tonganoxie at the end of the month to begin a new chapter of my life in Johnson County, but words can't express how grateful I am for the time I've spent in this community. Not only have I been fortunate enough to do what I love for a living, but I've had the opportunity to work with a group of coaches, athletes and administrators who always made me feel welcome.
The family atmosphere this town regularly displays has made it a wonderful place to work and a difficult one to leave. My job rarely felt like work for almost three years, and I have all of you to thank for that.
Since I arrived, I've followed numerous teams to state, covered just as many regional and sub-state championships and witnessed countless individual achievements. Success has hardly been in short supply in the last few years, and I wish your athletes nothing but the best in future competition.
There are far too many names to list individually, but in the spirit of tomorrow's Thanksgiving holiday, I want to express my sincerest thanks to everyone I worked with during my time at The Mirror. If you've enjoyed my coverage even half as much as I've enjoyed getting to know all of you, then my time here was a success. I'll always speak of Tonganoxie in the highest regard, and I certainly plan to visit often.
Thanks again for everything, Tonganoxie. It's been an absolute pleasure.