Soccer to take win streak to Perry
Chieftains have recorded back-to-back shutouts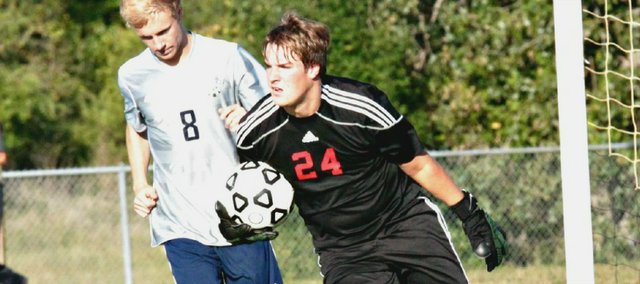 The Tonganoxie High soccer team ended its week with back-to-back shutout victories Thursday and Friday, picking up one win at home and another on the road.
The Chieftains bounced back from a Sept. 22 loss to Mill Valley with a 1-0 win Thursday at home against St. Mary's Academy. Asher Huseman THS (6-3-1) a lead just 48 seconds into the contest, and the team relied on its defense to keep the shutout intact, limiting St. Mary's to a single shot on goal.
One day later, the Chieftains rolled to a 5-0 victory against Maranatha Christian Academy in Shawnee. Huseman notched a hat trick, bringing his season scoring total to a team-high 18 goals, while sophomore Jay Willcutt and freshman Chandler Caldwell each scored once. The goals were the first of the season for Willcutt and Caldwell and the first of Caldwell's career.
The shutouts were the team's third and fourth of the season. THS has allowed just 1.6 goals through 10 games.
"The defense, for the most part, is really starting to gel," coach Brian Kroll said. "I've only got about one spot that I'm not real sure of, but its' starting to work really well with the left-side D."
Kroll's squad will play its only game of the week at 5:30 p.m. at Big Seven opponent Perry-Lecompton — a team it defeated earlier this season at home, 8-0. The Chieftains will host a pair of Kaw Valley League foes next week. They'll welcome Class 5A Lansing to town on Monday, then face Bishop Ward on Oct. 9.