Tonganoxie High School track teams look to build on 2014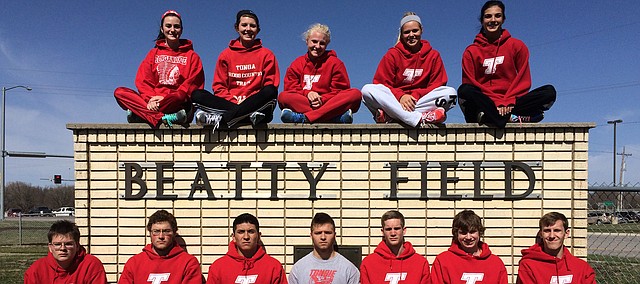 Jumping events are expected to be Tonganoxie High's bread and butter on the boys team.
First-year head coach Preston Troyer, who was the girls head coach last year, said THS should be among the best in the area in those events.
"Honestly, in the jumps, I think we'll be leading until the track events," Troyer said. "We really just don't have sprinters right now, girls or guys."
Depth is an issue in those events, but Troyer said he expects for the team to be able to compete. He said the team's goal is to finish each meet in the top half of the standings.
"We've been working hard, been going at it right at three weeks with spring break in there," Troyer said. "We're very young. It's good to see them progress."
THS returns seven seniors, but lost Ben Johnson and Cory Snyder to graduation.
Johnson won the Class 4A triple jump. He now competes on the Wichita State track and field team. Snyder placed third in shot put in 4A as a senior last year.
The team does have state experience returning, as Devan Smith placed 13th in the high jump at state last year. Brad Andrews competed in pole vault at state as well.
Fellow senior Garrett French returns as a 2-miler, while Levi Koch competes in javelin, Gage Laser in shot put, Albert Miller in shot put and discus. Ray Munoz is also back for the Chieftains. Andrews will compete in long jump, triple jump and high jump along with pole vault.
Troyer expects Dylan Staatz to compete in jump events, while freshmen Sammy Sigourney and LeeRoi Johnson have had promising preseasons.
THS opens the season Friday with a meet in Junction City. The Chieftains originally were slated to compete Thursday in Ottawa, but scheduling conflicts has them now heading west to JC.
THS GIRLS TRACK
The Tonganoxie High girls track team has gladly welcomed the mild end to winter on the calendar.
Tonganoxie, which has 20 members out this year,
"Really well, especially with the nice weather," said coach Rachelle Pauly, assessing how preseason practices have progressed. "That's helped not having to get any indoor work in and having some good times going."
The "good times" to which Pauly was referring were timed distances on the track during practice.
THS has several athletes returning, including a relay team that advanced to state or just missed a year ago.
Seniors this year are Tressa Walker, Jessica Minear, Summer Cerny, Kourtni Freemyer and Jackie Whitledge.
Walker and Freemyer are part of the 4x800 team that placed ninth at state, while the 4x400 team nearly advanced to state last year.
Walker returns on the 4x800 and 4x400 team, as well as triple jump.
Freemyer just missed out on a state appearance in the pole vault, while Minear returns after advancing to state in triple jump in 2014. She also just missed out on advancing in high jump.
Whitledge returns after sitting out her junior campaign, while Cerny competed late last season because of transfer rules. She came to THS from McLouth.
The team has a good nucleus returning, including the 4x800 team.
"We're expecting them to go pretty far this year as well," Pauly said.
The relay currently is shaping up to be Walker, Emma Campbell, Mia Bond and Emily Chambers, though that could change as the season progresses.
A big contributor lost to graduation was Haley Griffin, who placed fourth at state in the high jump last May. She finished in the top four of the event three seasons and top 10 all four seasons. Like Johnson, she now competes at WSU.
This year's Chieftains will open the season Friday at Junction City. THS was supposed to compete Thursday at Ottawa, but a scheduling conflict kept them from that meet. The JC invitational was a last-minute option.
Pauly opens her first season as head coach for the girls team after spending two seasons on the middle school staff.