Challengers sweep
USD

464 races
Mayor wins close race: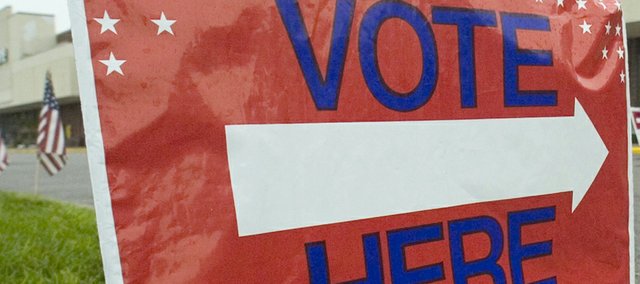 The Tonganoxie USD 464 School Board will have a much different look in a few months.
Voters last week voted in three challengers in races that involved incumbents, while a fourth seat was a battle between two candidates who were not incumbents.
In USD 464 Position 1, Tonganoxie lawyer Amelia Brusven won with 60 percent of the vote. She tallied 632 votes to incumbent Diane Truesdell's 415 vote. Truesdell is a local volunteer who first was appointed to the board in 2006 when former board member the Rev. Rick Lamb left Tonganoxie for a position in Texas. She had won election in 2007 and 2011.
USD 464 Position 2 was a three-way race that saw challenger Kaija Baldock outlast incumbent Kathy Baragary and fellow challenger Bill Loechler. Baldock, a stay-at-home mother, had 46 percent of the vote with 493 votes. Baragary, now a local volunteer who also once was a substitute teacher in the district, had 382 votes, while Loechler, a retired resident, tallied 190 votes.
For USD 464 Position 3, challenger Michelle McGhee had 574 votes to incumbent Gene Becker's 467 votes. McGhee won with 55 percent of the vote. Becker is a retired commercial carpenter, while McGhee works as a security risk manager for Sprint. Becker was the board's at-large representative, but decided to seek another term in his district after fellow board member Leana Leslie decided not to run for another term.
The final board seat was between Bryan Kemp and Tamara Behm.
Kemp, who owns a family cattle business and a lighting maintenance business, tallied 560 votes to Behm's 482 for Position 7, which is the at-large seat. Kemp won with about 54 percent of the vote. Behm, an infection prevention nurse, also ran unsuccessfully for the board four years ago.
The new board members will begin their terms this summer.
The school district had a voter turnout of 13.4 percent, according to Leavenworth County Clerk Janet Klasinski. The city, meanwhile, was at 18 percent. Both were above the countywide number of just under 12 percent. Basehor-Linwood USD 458 had a bond issue on its ballot and with it 15 percent voter turnout.
Tonganoxie mayoral race
Mayor Jason Ward survived a formidable challenge from Council Member Bill Peak.
Ward, an area attorney, tallied 332 votes to Peak's 299. Ward won by just more than 30 votes and under 53 percent against Peak, a retired U.S. Postal Service official.
City Council
With Peak's decision to run for mayor, that meant at least one new face would join the Tonganoxie council.
Local homebuilder Curtis Oroke is that new face.
Oroke tallied 219 votes, the second-most votes for a candidate. Incumbent Kara Reed, a Kansas City Kansas Community College professor, had the highest number of votes with 318. The top two vote-getters take the seats.
Charles Conrad, who runs a downtown restaurant with his wife, had 179 votes, while former Chamber of Commerce director Susan Freemyer had 157 votes, former mayor and council member and Tonganoxie police dispatcher Mike Vestal received 137 votes. Paralegal Melynda Harbour tallied 134.
Mayor and city council members will be sworn in during Monday's regular council meeting.