Time for merriment: Tonganoxie's Madrigal Feaste is Friday, Saturday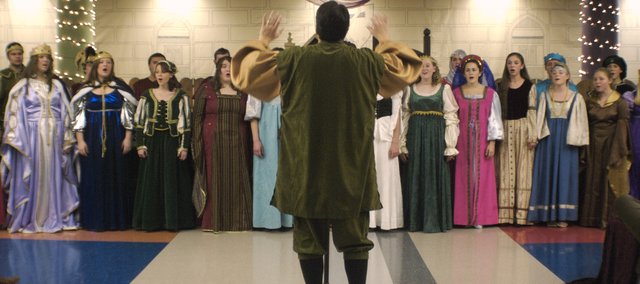 The Tonganoxie High School Vocal Department again will be performing for the THS Madrigal Feaste, which is Friday and Saturday in the Tonganoxie Middle School commons area, 824 Washington St.
The "castle doors" open at 6 p.m. both nights. The royal processional then begins at 6:30 p.m.
Minimum contribution to attend the event is $15. Roses also can be purchased for "thy ladye" for a minimal fee. Proceeds will benefit the vocal department.
This year's menu will be hot wassail (spiced apple cider), bread loaves, soup, ham steak, green beans, roast potato and a fruit tart.
This is the 14th annual installment of the Madrigal Feaste, with Carolyn Day still serving as "queen mother" of the feaste. She works year-round in gathering decorations and other items for the holiday event.
In the past, the event has featured both THS and TMS vocalists, but vocal instructor Tom Gifford said this year's event would feature THS students.
He said the choir concerts have been separated, so THS and TMS each have their own.
Performing this year are three high school vocal groups: Chieftain Singers, THS Concert Choir and the newly established Treble Choir.
Students will perform a modified version of the inaugural THS Madrigal Feaste called "The Jester's Test" by Paul Brandvik. In it, the two main characters, the Jester (played by Braden Shryock) and the Troubadour (played by Luke Falk), compete for the title of the King's Jester.
Royalty for Friday's Feaste are Zach Berry as king and Kaitlin Hall as queen. For Saturday night, Joshua Lingo will play the role of the king and Emma DeMaranville the queen.
Tickets for the Madrigal Feaste may be purchased in advance only. Saturday night is nearly sold out, while tickets still remain for Friday's show. To purchase tickets, contact Gifford at the high school, 913-416-1460, ext. 2045.