Numbers at Tonganoxie/Eudora interchange on the rise
Transactions at toll up in 2015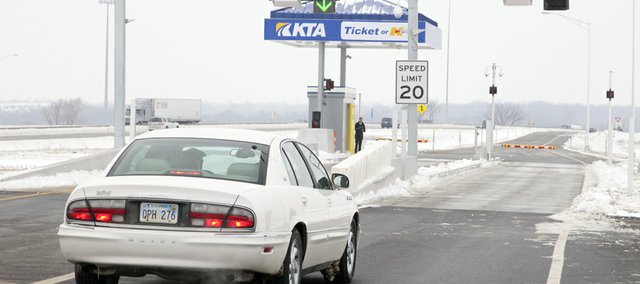 The latest traffic numbers indicate that the Tonganoxie/Eudora interchange is a popular stop for motorists along Kansas Turnpike/Interstate 70.
According to the Kansas Turnpike Authority's latest annual report, the Tongaonxie/Eudora interchange also, known as KTA interchange No. 212, increased its number of cash transactions by nearly 28,000 from 2014 (146,197) to 2015 (174,157).
Electronic transactions also saw an uptick, like many interchanges across the state. Those transactions increased by nearly 47,000 from 2014 (225,915) to 2015 (272,517).
In 2015, nearly 423,000 got on the turnpike from Tonganoxie/Eudora and almost 441,000 exited the toll highway. That's a total of 863,513 vehicles in fiscal year 2015, which ended in June.
Tonganoxie Mayor Jason Ward said the numbers were encouraging.
"I think what we're seeing is the number justifying what we thought would always happen," Ward said. "As the community grew, there would be increased usage of the interchange and the numbers are bearing that out."
Of 24 interchanges in the state, Tonganoxie/Eudora was one of nine to show an increase in cash transactions from 2014 to 2015.
With an increase in K-Tag usage, the electronic transactions increased in that time span for all interchanges, aside from m the Mulvane exit, which showed a decrease of just more than 5,000. That interchange had 217,147 in 2014. It dropped to 211,989 in 2015.
Numbers don't indicate how many people are heading north to Tonganoxie or south to Eudora once they leave interstate, but Ward contends the interchange continues to have an impact.
"I think we're seeing more and more folks realize what a benefit it is," Ward said. "We've had a number of folks come to Tonganoxie where one person worked in Topeka or Lawrence and another worked in Kansas City and the turnpike is just great for them.
"And we're also hearing more and more discussions from businesses and people interested in coming to Tonganoxie, that the connectivity in that interchange is better than most locations in the city."
Ward went on to say businesses are starting to look at potential opportunities near Tonganoxie instead of at high traffic congestion at some other interchanges.
Tonganoxie has land for industry to move in near the interchange — now with utilities extended to it — but no business yet.
In October 2008, the Tonganoxie City Council at the time approved purchase of 237 acres of land south of the city limits for nearly $1.38 million for an industrial park.
The recession delayed any activity on the acreage, but city officials are hopeful that there will be activity there.
The Tonganoxie/Eudora interchange opened in December 2009.