Home showing for Tonganoxie wrestlers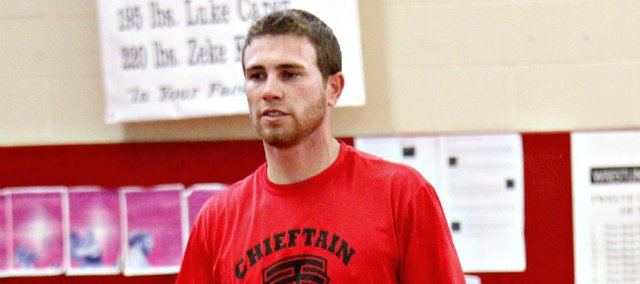 Korbin Riedel, Patterson Starcher and Devin Duncan led the way for Tonganoxie High at its Randy Starcher Memorial Tournament on Saturday at the THS gymnasium.
The three first-place finishes helped the Chieftains to a fourth-place finish in the team standings.
Riedel (freshman, 19-1) won the 120-pound division by fall at the 3-minute mark against Eudora's Siam Boyd (junior, 2-10). Starcher (sophomore, 16-4) won at 132 with a forfeit victory against injured Jayhawk Linn sophomore Colton Byram (13-3).
And at 172, Duncan (sophomore, 6-2) defeated Harmon's Josh Lichter (junior, 9-9) by major decision, 21-4.
Austin Lang, fourth place at 106, while George Lang (junior, 8-1), placed fifth at 113.
Gad Huseman nabbed a silver for the Chieftains, taking second at 126. Huseman (sophomore, 17-3), couldn't knock off undefeated Jayhawk Linn junior Trevor Compton. The match went into the third period, but Compton (18-0) won by fall at the the 5:02 mark.
Caden Searcy (sophomore, 18-2), finished third at 145 with an 8-0 major decision against Louisburg's Blue Caplinger (freshman, 8-6).
At 152, Justin Hand (sophomore, 9-8), placed fourth after losing to Shawnee Heights' Tristan Weaver, (senior, 12-4) by a 10-5 score.
Jay Willcutt (junior, 6-11) finished sixth at 160 after Louisburg's Austin Moore (freshman, 8-7) pinned him at the 1:05 mark.
And in the 182 match, two Tonganoxie wresters squared off against each other.
Dalton Hull (sophomore, 7-7) placed third after defeating Kolton McCrary (freshman, 1-4) by fall. Hull got the pin at the 3:21 mark.
Shawnee Heights won the meet with 299 points, though Tonganoxie was just 7 points behind second-place Louisburg, which scored 207.
THS coach Ross Starcher again lamented not having wrestlers in the bigger weight classes, as they would help erase such a deficit.
Starcher said the team wrestled well at the home meet, a good way to finish out the 2015 portion of the schedule. THS also split two duals on Thursday in Ottawa. Tonganoxie defeated Ottawa, 47-26, and lost to Santa Fe Trail, 46-21.
The team returns to action with a dual Jan. 7 in Spring Hill and the Louisburg Invitational Jan. 9.
"We'll take it easy for a week and then get conditioning back up," Starcher said of the holiday break.
The hiatus should help the team nurse some injuries as well — Aiden McClellan (106), Chris Botkin (113) and Andrew Dent (145) all have been nursing injuries.
Team standings
Shawnee Heights, 299; 2. Louisburg, 207; 3. Frontenac, 206; 4. Tonganoxie, 200.5; 5. Doniphan West, 134.5; 6. Schlagle, 127.5; 7. Jayhawk Linn, 117; 8. Blue Valley Southwest, 107; 9. Eudora, 87; 10. Olathe Northwest, 65; 11. Harmon, 55; 12. Atchison, 26; 13. Bishop Ward, 16.5.