Tonganoxie to have equestrian restrictions on sidewalks, trails
No decision yet on police station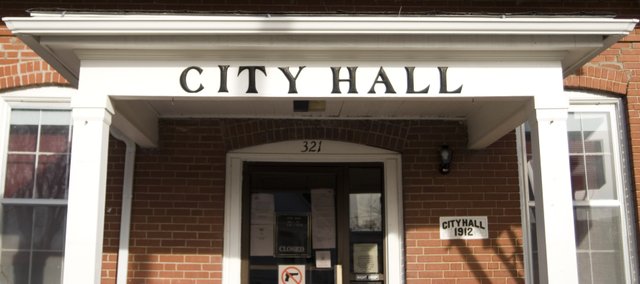 The Tonganoxie City Council approved an ordinance amending city code to restrict equestrian use and some motorized vehicles on trails and sidewalks.
The governing body approved the measure, 4-0, with Council Member Kara Reed absent.
The council recently requested city staff draw up an ordinance that would prohibit animals and motorized vehicles on sidewalks and trails within the city limits. It makes a revision to city code with the exception of a dog or cat properly licensed in the city that is properly restrained or on a leash.
The ordinance also includes an exception to anyone with a disability in a motorized wheelchair or electric scooter not exceeding 5 mph. Any violation of this would be subject to a fine not to exceed $500.
"I think in the end it's about public safety," said Mayor Jason Ward, at a recent council meeting.
Executive session set
The council met for 15 minutes with McCommon, City Attorney Mike Kelly and Assistant City Administrator Jamie Shockley to discuss possible acquisition of Cornerstone Family Worship.
The Council came out of the closed-door session with Ward noting no action was taken. The governing body also did not discuss the topic further during regular session Monday.
City officials continue to look at repurposing the church for a new police station. Church officials recently made public its asking price of $275,000 for the building.
Concerns voiced about neighbor
Tonganoxie residents living in the 200 block of West Third Street told the council that a neighbor has been blowing leaves on to their property for some time.
The residents said there also is tension in the area. They claimed at the meeting that the neighbor also has yelled at one of them in the past and there have been some trespassing issues.
Ward asked that city staff look into the situation further to see whether it could be resolved in working with all the neighbors involved, as well as determining whether there were any nuisance or criminal violations of city code.
Building rezoning approved
The council approved, 4-0, rezoning of the former Good Shepherd Thrift Store and Food Bank building at 304 E. Fourth St.
The building was used for several years as a nonprofit organization. Scott and Linda Theno purchased the building with the intent to use the structure as a small community event venue with a salon to operate as a business in part of the building.