Legislative update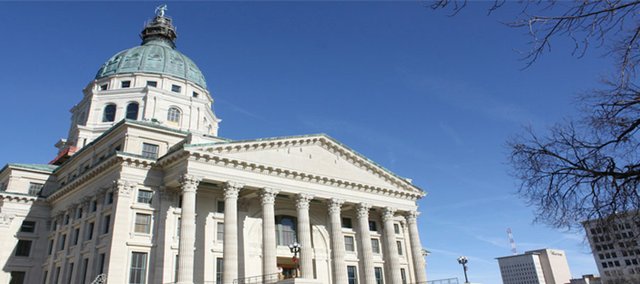 Three weeks into the legislative session, and very little (so far) has been done to address the over $757 million in projected budgetary deficits affecting both the current fiscal year 2015 and next year's FY 2016 budgets. The deficits are there because of one reason: Gov. Sam Brownback's uber business-friendly tax policies. Kansas state income tax revenues have shrunk by nearly one-third following the July 2013 rollout, but no such related (and much promised) economic upswing has materialized to replenish those revenue losses. Instead of revisiting these failed tax policies, however, the Legislature will instead try to cut its way out of the problem. And their first target is K-12 education.
In his 2015 State of the State address, Gov. Brownback outlined his 2015 legislative priorities, which include overhauling the school finance formula. The very next day, the governor released his proposal for the FY 2016 and FY 2017 budget. The proposal includes elimination of the school finance formula established in 1992 and replacing it with a block grant program, cutting $127 million in education funding. Kansas lawmakers are picking up on the governor's cues and have proposed Senate Bill 71. SB 71 changes the method for computing supplemental general state aid (more commonly referred to as the local option budgets) and would reduce supplemental general state aid in the current school year by approximately $39 million. And those cuts hit home here in the 3rd district, where the Lawrence school district would lose approximately $1.34 million, Baldwin would lose about $100,000, Eudora would lose around $74,000, Basehor-Linwood would lose approximately $138,000, Tonganoxie would lose $120,000 and Easton would lose $60,000. Making those cuts more than halfway into the school year will prove to be doubly difficult.
In addition to the proposed dollar cuts, what I also find disconcerting in this legislation is the fact that this bill flies in the face of work the 2014 Legislature did to satisfy the Kansas Supreme Court's concerns regarding inequitable funding. This bill only makes funding more inequitable across Kansas school districts and is being driven simply by a need to reduce the deficit, not by any sort of information regarding student achievement or outcomes. Through its actions the Legislature is almost begging for the Supreme Court to (once again) step in, which it inevitably will be forced to do.
I welcome your input on these and other issues. Please feel free to contact me at Tom.Holland@Senate.KS.Gov or (785) 296-7372 if you have any comments or questions. You can also stop by my legislative office, located in room 134-E of the Topeka Statehouse, to share your thoughts in person.