Tonganoxie Phil doesn't see shadow; hello, early spring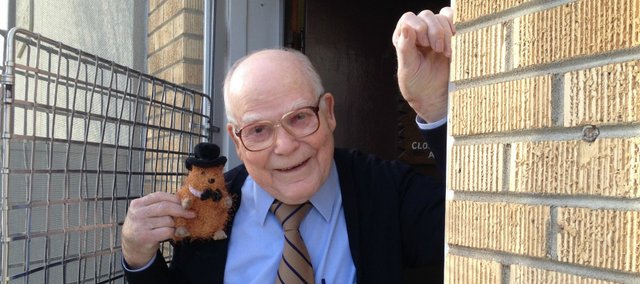 Wisconsin is known for its badgers, but another type of furry fella made the headlines there Monday.
Sun Prairie, Wis., Mayor Jonathan Freund leaned over to Jimmy the groundhog during a Groundhog Day ceremony to get the scoop on the rodent's prognostication.
Jimmy apparently took offense and bit down on the mayor's ear.
Tonganoxie Phil, the local Groundhog Day prognosticator, stood firm with his fellow forecaster.
"Serves him right," Tonganoxie Phil said. "Politicians always trying to get the inside track, you know. Serves him right."
Tonganoxie Phil is, of course, longtime physician Phil Stevens. His forecasting just more than 20 years ago when a Kansas City radio station was searching for its own Punxsutawney Phil.
Asked whether he's had to bite anyone grilling him for a weather forecast, Stevens said "not unless the circumstance requires it."
"I haven't done it yet, I'll put it that way," Stevens said.
The radio station quit checking in with Tonganoxie Phil after a few years, but the tradition continues with The Mirror. And the annual inquiry has led to many patients asking him for weather reports.
This year, Punxsutawney Phil saw his shadow, so that means six more weeks of winter.
Tonganoxie Phil, though, didn't see his shadow when he got up this morning.
"We're going to have a nice spring and an early spring," Stevens said. "The guy in Pennsylvania said he was going to have more winter. But that's there and not here.
"East of the Mississippi and west of the Mississippi are different."
Stevens has worked out of the same downtown Tonganoxie office as a physician for nearly 60 years.
He was a fixture in the community long before his Tonganoxie Phil persona kicked in.
But, he said, people don't just seek medical advice, as some seem to think he's "some weather guru."
He said that means he pays attention to the local forecasts and keeps up to date on weather patterns.
Unless, of course, there are thunderstorms or tornadoes brewing.
"I run the other way," he said. "If I see a storm coming, I head for the basement."
The winter has been fairly mild. The same can be said for flu season, Stevens said.
His office has had about "two dozen" cases of influenza, as well as one case of pneumonia.
"We've been pretty fortunate," Stevens said.
If residents haven't already gotten their flu shots, Stevens said they should do so soon.
When the local doctor isn't predicting the weather or treating patients, he's reading or listening to opera music — sometimes simultaneously.
He noted that he prefers operas in foreign languages because he can understand those performed in English — and that makes it difficult to concentrate on reading.
For those whose seasonal hobbies include playing in the snow, Stevens said residents should enjoy it while they can.
"They better hurry," Stevens said. "You won't be able to use your sled much this year."
And if you do venture out into the cold air, be prepared.
"Bundle up and all those healthy things," Stevens said. "We're all for that."