Tonganoxie vigil pays tribute to 21-year-old killed in Thursday morning wreck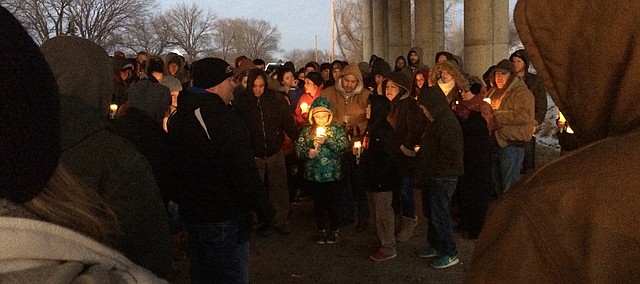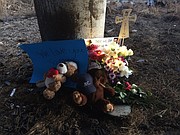 Tonganoxie — As more than 100 people gathered on a frigid Thursday night along Leavenworth County Road 5 in Tonganoxie, a family member spoke glowingly about Colin Bennett.
Darren Bennett, an uncle, told the crowd that no one ever had "anything negative to say about Colin Bennett."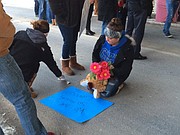 Family and friends gathered beneath the U.S. Highway 24-40 overpass for a vigil honoring Bennett, who died in a vehicle accident early Thursday where the vigil took place.
Police Chief Jeff Brandau said officers were called to the accident scene just before 1 a.m. Thursday at Leavenworth County Road 5.
Brandau said that the vehicle, which had slammed into concrete pillars just east of CR-5, was engulfed in flames when law enforcement officials arrived.
An autopsy showed that Bennett died from injuries suffered when the vehicle crashed into the pillars, Brandau said.
Evidence from tire tracks indicates there were two vehicles involved in the accident. Brandau said the department is still working to find the other vehicle involved in the crash.
"Until we get that second vehicle, we don't know what the heck happened," Brandau said. "But definitely the vehicle that struck the bridge (pillars) was going at a high rate of speed."
Darren Bennett told those at the vigil to come forward with any information about the other vehicle.
Bennett was a 2012 Tonganoxie High School graduate. He turned 21 on Dec. 26, according to one of the mementos at a makeshift memorial created near the accident scene.
His uncle reminded those in attendance of Colin's smile, a grin that he wore regularly.
"It's not fair," Bennett said.
Anyone with information about the other vehicle involved should call Tonganoxie police at 913-369-3754.
Tonganoxie City Fire Department, Kansas Highway Patrol and the Leavenworth County Sheriff's Office assisted police with Thursday's accident.