Another viable senior living option in Tonganoxie?
TES

buildings future could include apartments, rec commission home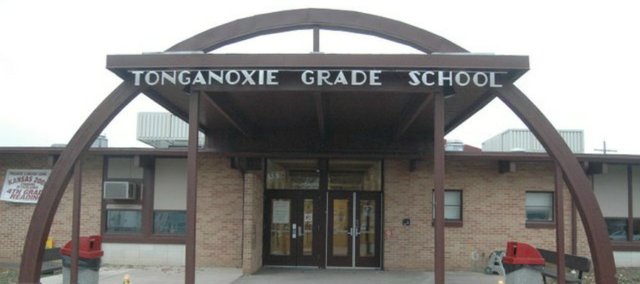 What has been a hub of activity for Tonganoxie children for several years could become a prime locale for senior citizens.
The current Tonganoxie Elementary School campus, which takes up two city blocks from Second to Fourth streets near downtown, will be moving to a new building later this year near Tonganoxie Middle School.
Tonganoxie USD 464 school board members have been weighing options for what will become of the former school.
Repurposing the building as a new home to the Tonganoxie Police Department, city offices, USD 464 central office and Tonganoxie Recreation Commission has been discussed, though that would come with some extensive roof work and other retrofitting costs that could make it a multimillion-dollar project.
The school board is looking at other options, such as "boarding up" the building for future use or sale, selling to the highest sealed bid, deeding the building to a company, the city or another entity, in addition to the aforementioned remodel for district offices.
The board continues to be weighing its options, but another option that has drawn the most discussion has been the idea of selling the building and forming a partnership with the Tonganoxie Recreation Commission.
USD 464 Superintendent Lyn Rantz spoke at school board and City Council meetings earlier this month about interest from a development company that repurposes former schools into independent living quarters for senior citizens.
"It's a perfect location," Rantz said, noting proximity to downtown was a positive with the development company.
She said the company was looking at turning much of the building into 37 living units, but the group said it wouldn't have a use for the north gymnasium.
That's where the TRC partnership could come in.
The recreation commission has been in discussion with city and school district officials about taking over the gymnasium and a handful of classrooms, including the current music room.
Various factors must be addressed before any decision on the property can be made.
TRC assistant director Brad Eccles said at the city council meeting that the commission currently pays $1,000 in monthly rent for its downtown office and would have to evaluate what costs might come with a move to the current elementary school.
Though the future use of the building still is far from definite, there is a demand for senior citizen accommodations in Tonganoxie.
Sundance Apartments in the Stone Creek Subdivision will be adding 16 more units to its affordable senior living units.
The waiting list for residents at that complex is more than 60 currently.