Filing deadline for Tonganoxie races noon today
Mail-in ballots for sales tax question due next Tuesday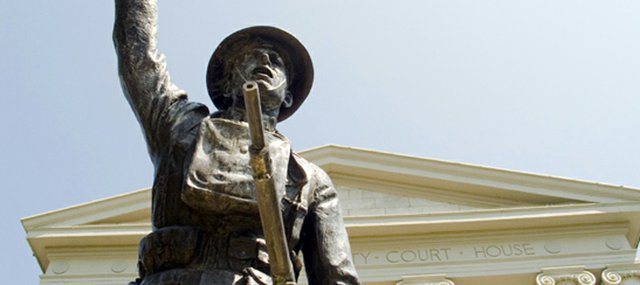 Several residents have filed for Tonganoxie City Council and USD 464 school board positions, though two positions won't have anyone running in this year's school board election cycle.
The deadline is noon today at Tonganoxie City Hall or the Leavenworth County Clerk's Office for City Council and mayoral filings. School board candidates must file at the clerk's office.
Incumbent and current board president Kathy Baragary is seeking a third term as the Position 2 representative. She first was elected in 2007.
Current board member Gene Becker is running against Michelle McGhee for Position 3. Becker currently is the Position 7, or at-large, board member. That position does not require a member to live in a specific district in the district.
Leana Leslie, who has been on the board since 2003, has chosen not to run for a fourth term. Her current term ends in June. Board members elected in the April general election will begin their terms July 1.
Leslie said she thought it was time for someone else to join the board.
Her daughter, Makayla, is a 2011 Tonganoxie High School graduate. Son, Justin, is a senior this year.
"I've enjoyed it," Leslie said. "I think it's been great. I feel like we've accomplished a lot of great things. But 12 years, I think, is a long time to be on there."
She said the new elementary school opening later this year would be a big accomplishment for the district.
"The great thing is every year I've been on the board, the board has gotten along so well," she said. "We may not have all had agreed all the time, but appreciated each others' opinions."
She said she would miss working with a variety of people in her board member capacity.
Diane Truesdell, who has been on the board since 2004, hadn't made an official announcement as of early Tuesday.
That would leave Positions 1 and 7 open. If the positions aren't filled, the board would ask for applications for those interested in running. After an interview process, the board would appoint patrons to the positions.
In City Council and mayoral races, there are three positions up for grabs overall.
Tonganoxie Mayor Jason Ward is seeking another term and will face a challenge from council member Bill Peak.
That leaves Peak's position open, as well as that of fellow member Kara Reed.
Reed is running for her seat, while former Tonganoxie Mayor Mike Vestal, as well as Curtis Oroke and Susan Freemyer, also are vying to fill one of the two at-large positions.
Mail-in ballots due Tuesday
Ballots for Leavenworth County's one-cent sales tax extension are due at noon Tuesday.
Ballots must be received by mail to the Leavenworth County Courthouse by Tuesday.
Ballots dropped off at the clerk's office at the courthouse in Leavenworth or the county annex at U.S. Highway 24-40 and Laming in Tonganoxie must be received by noon Tuesday.
County Clerk Janet Klasinski reminds voters to make sure they are registered at their correct address and that the county has the voter's current mailing address.
For more information about the mail-in ballot, contact the Leavenworth County Election Office at 913-684-0419 or 913-684-0422. You may also reach the office by email at hklinkenberg@leavenworthcounty.org or jklasinski@leavenworthcounty.org.