60 years strong: Tonganoxie physician marks milestone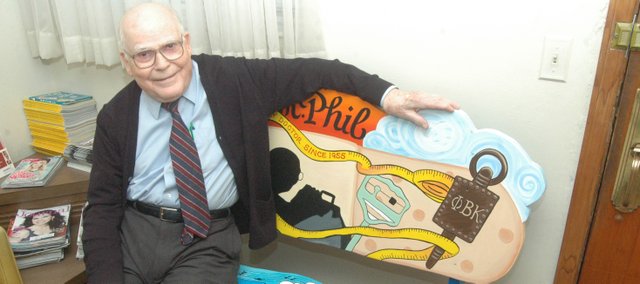 When Dr. Phil Stevens opened his office in Tonganoxie, the office came with a General Electric refrigerator.
The fridge still is going strong — and so is Stevens.
That was exactly 60 years ago to the day today.
Stevens started his practice on July 1, 1955, in the office at 605 E. Fourth St.
Not much has changed in the office, including the original furniture. And, of course, that refrigerator.
"It works like a charm," Stevens said.
One might say the same about the longtime Tonganoxie physician, now 87.
A 1945 graduate of Oskaloosa High School, Stevens worked on the press at the Oskaloosa Independent newspaper during his high school days.
He then was off to Kansas University where he earned his bachelor's in 1950 and medical degree in 1954. He also served a year in the Army while in college.
Former Tonganoxie physician Bill Howland asked Stevens whether he wanted to buy his practice and Stevens jumped at the chance.
"I probably thought about it for 2 minutes," Stevens said.
He also had plans of making Tonganoxie his family's home for years to come.
"I intended to stay here for life," Stevens said. "When we moved into our house 60 years ago, I told Betty 'I hope you like this place, because I'm never going to move,'" Stevens said with a chuckle, recalling a conversation he had with his wife. "Honest to God."
Delivery time
Stevens delivered several babies in his first years in the practice. Many still live in the area, such as Connie Torneden, who proudly mentioned in a recent Face to Face feature about her that she was on Stevens' "wall of fame" of composite baby photos.
Stevens delivered babies for 8-plus years, but had to quit because it had become too much delivering at night and then working all day in the office.
For the first 18 years of Stevens' career, all of his patients were walk-in customers.
"People would be standing in front of the door in the morning," he said.
With so many years of service in Tonganoxie, Stevens has gotten to know so many people — and several generations of patients.
"I just feel real close to a lot of people," he said. "And of course they do to me, too."
Diane Forshee can relate. She's worked in Stevens' office for several years, now mainly taking care of receptionist duties.
"It's definitely wonderful being a part of a legacy," she said. "Doc delivered my husband. He took care of both of us as kids. "He saw our kids and now sees our grandkids.
"He's been a real blessing to the community."
Barb Hardisty started working for Stevens in the late 1970s. She's had various duties in the office through the years. She now focuses on insurance forms and payrolls.
"It's just been a very enjoyable place to work," she said. "He's been a great boss to work for. It's a lot of fun to be a part of the community in this way."
Through the years
Dr. Stevens and his wife, Betty, have seen many changes in the community through the years. Their home was built nearly a century ago as a farmhouse. Tonganoxie has grown and now it's part of a neighborhood that's been established for some time.
The couple have six children who grew up in Tonganoxie and now are in various locations.
Phillip D. is a physician who splits time between Hays and a spot in New Mexico, while Charles lives in Norway and works as a counselor. Matt is a real estate broker in Kansas City, Mo., while daughter Lisa Scheller is an editor and photographer at the Kansas University Endowment Association.
Another son, Dan, is a registered nurse who lives in Tonganoxie.
And Loralee, the youngest, is an assistant dean at Johnson County Community College.
Dr. Stevens said he loves what he does and plans to do so as long as his health allows.
"Well, I would like to never retire," he said.
He added that government regulations requiring electronic records may force him to retire. The office has done all of its records on paper.
"We're never going to go electronic," he said.
Stevens said he loves what he does and said it's "a joy" to see all his patients.
In his spare time, he loves to attend plays, musicals and operas. He also likes to read.
As for needing to get away from the bustle of Tonganoxie, Stevens said he last took a vacation 17 years ago.
"Joplin, Mo.," he said with a laugh.