Creating a family: Agency seeks more foster families; greatest need in Wyandotte County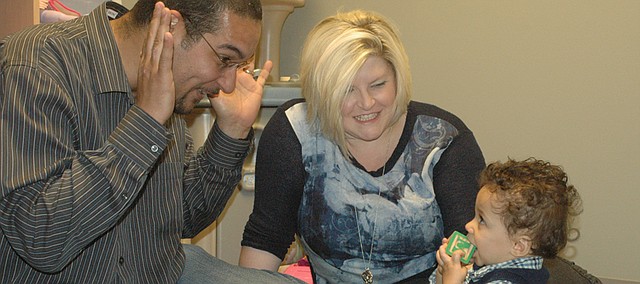 Christine Blauw and her husband, Lovell Johnson, tried to have children of their own for years.
After two failed attempts at in vitro fertilization, the Johnson County couple decided to look into adoption and even fostering to adopt.
"We made up our mind then that there is a child already in need out there that we need to work to get," Johnson said.
The couple worked with KVC, the private nonprofit agency that has the state contract to arrange foster care for the eastern third of Kansas, from just west of Topeka to the border with Missouri. After becoming certified to foster last summer, they were soon asked to take in three children — two of them from Wyandotte County.
That's because Wyandotte County has a higher-than-average need for certified foster families. There are just 65 KVC-certified foster homes in the county, and most are in the eastern portion of the county. Of the 491 children from Wyandotte County placed in the foster care system through KVC as of early June, 276 of them — 56 percent — had to be placed with families outside of the county.
Bryan Drescher, community resource specialist with KVC, said pulling children away from their community only makes what is already a traumatic situation even worse, especially for school-aged children. So KVC is doing all it can to recruit and certify more families in Wyandotte County.
"That's the number one goal and that's our biggest challenge, is the fact that we don't have enough good homes to say 'Hey, we've got this kiddo that's in your school district,' just so that they can keep them in that school district," Drescher said.
Drescher explained that when a court orders removal of children from their biological family's home, they usually have just 15 minutes to pack a bag after police officers arrive.
"So their world is already turned upside down, and they're immediately traumatized," he said. "Then on top of that, you have to tell them 'You're going to go live with these strangers, and you're going to go to a new school and have to make all new friends.'"
Rising need
While Wyandotte County's numbers are the highest, the problem exists in other counties on the Kansas side of the metropolitan area.
In Johnson County, 45 percent of the 625 children placed in foster care through KVC have been placed with families elsewhere. In Douglas County, 48 percent of the 131 children were sent outside the county, and in Leavenworth County, 35 percent of 96 children couldn't be placed with families in the county.
And the number of children entering and remaining in foster care has only been increasing.
According to the Kansas Health Institute, children are placed in foster care after a judge rules their safety or welfare is in jeopardy, usually due to parental abuse or neglect. They're allowed to return to their families once a judge decides those problems have been resolved. KHI reported that the average stay in foster care in Kansas is 16 months, though often a child might spend several years in the system.
In 2013, the KHI reported that there were 975 children in foster care whose parents' rights had been terminated and who were available for adoption — the most in at least four years. From 2011 to 2013, near-record numbers of children entered the state's foster care system, at a rate that outpaced population growth. At the same time, fewer children exited the system, and the number of adoptions involving children in state custody fell to a six-year low.
KVC isn't the only adoption and fostering agency in the area. There are others, like Overland Park-based TFI Family Services, who are called upon in the event KVC is unable to find a foster placement for a child.
KVC is one of just four nonprofit organizations in the nation recognized by the Annie E. Casey Foundation as a best-practice provider in children and family services. It was founded in 1970 by a group of women from the Junior League of Johnson and Wyandotte Counties as Wyandotte House, a place for children in need. Now, KVC serves more than 1,400 children in the metropolitan area and organizes foster services in three other states.
Drescher said the low number of certified foster families in Wyandotte County is in part due to the county's higher level of low-income homes — those families are unable meet certain requirements to become foster certified.
But Drescher said KVC also is working against negative stereotypes for fostering.
"I think people get the wrong idea about foster care and what it involves and the system, how the process works," he said. "It's just a matter of finding those people; that if they were to understand, they would step up to the plate."
Making the decision
Blauw and Johnson said when they looked into fostering, they decided to take KVC's free certification classes before making a commitment.
KVC offers a course called Trauma-Informed Partnering for Safety and Permanency: Model Approach for Partnerships in Parenting, more often just called MAPP, a 10-week course, or the Deciding Together seven-week course for families with less flexible schedules.
"The classes were very informative; our teachers there were pretty blunt about the whole process," Johnson said. "They didn't hide anything, just because they didn't want anybody signing up for something they didn't know they would be dealing with."
In addition to completing these courses, foster parents must be at least 21, be able to meet basic income guidelines, be free of government assistance like food stamps, be able to provide adequate bedroom space, have reliable transportation, agree to use non-physical discipline for the children and be willing to undergo background checks for everyone in the household.
The couple said they thought the classes really prepared them for the worst, all the while strengthening them as a couple.
"We dealt a lot with our strengths and needs as a family," Johnson said. "It's basically preparing and making you look at your family before making the decision to move forward."
The classes also help families determine their abilities as far as caring for children — if they think older or younger children would be a better fit, or if they can care for medically disabled children.
Realities of fostering
Blauw and Johnson went from two dogs to a full-fledged family in just under two months.
They got their first call for a placement of a 5-year-old on July 1 last year, and then took in a 3-year-old on July 31. Finally, on Aug. 22, they agreed to take in a 4-day-old boy.
Blauw said when they were asked to take in the baby, they were completely unprepared, with none of the necessary baby supplies. Thankfully, KVC helped out with a diaper bag full of diapers and formula and a borrowed car seat.
The couple said they have been impressed with the support KVC offers — a family service coordinator who fills them in on the child's background and behaviors in advance and stays in contact with the family, along with donated school supplied and presents over the holidays. The MAPP classes taught the couple different forms of non-physical discipline for children who have experienced trauma.
"Another thing they set us up with well is just realizing the support system you need, not only to raise a child in need but just to raise a child," Johnson said.
The couple also keeps in contact with the families they met in their MAPP class and has found Facebook groups for foster parents, which create a network of resources if they need clothes or furniture for incoming children.
Katie Dixon, a foster parent in Wyandotte County, agreed that the classes are helpful, but she said that most of her training has been "on the job," since she and her husband became certified two and a half years ago.
Dixon said knew she wanted to try foster parenting even before she met her husband, Paul. Her grandmother had done it, and she had worked with child protective services in Texas while in college. But she said parenting the children took some adjustment.
"I had no idea what trauma and abuse and neglect can do to a kid," Dixon said. "... But there are some really, really great moments, too, and it's sure worth it to know you were able to keep these kids safe for a little bit."
Saying goodbye
With foster children, there is always the possibility that you will have to give them away just when you've formed a bond with them.
The Dixons are intimately familiar with the sadness that families can experience when a child goes back to their biological family. Since they began caring for children in foster care, the Dixons have housed 14 children; four live with the couple right now.
"It's one of the hardest things ever, it's making me tear up now," Katie Dixon said. "A couple of them have been very short-term, and even those are hard, because you don't know what they're going to."
But for Dixon, what makes it worth the heartache is knowing that while the children were with her and her husband, they were safe. It's why, while she hopes to eventually be able to adopt one or two of her foster children, she plans to continue housing foster children for as long as she can.
"You get through it, and then you get another placement and fall in love all over again, and you keep going," she said.
Blauw and Johnson also encouraged those thinking about fostering to take the free classes and be open to the idea in order to give more children in need a safe and loving home.
"I think we knew that we wanted children and we had a lot of love to give, and that's all these kiddos need is support, love, discipline and structure," Blauw said.
Those interested in fostering can visit kvc.org/kansas or contact Drescher at 913-890-7500 or bdrescher@kvc.org.