Kansas City Connection: A tour of West 39th Street
This week, I'd like to take a brief tour of some of the classic, updated and new locations on one of my favorite walking/dining/shopping strips: West 39th Street.
The home to venerable bars and restaurants like Jazz (Cajun food, beignets, live music and beer, at 39th and State Line), D'Bronx (a New York-style deli on 39th and Bell), and Fric & Frac (a laid-back bar and grill at 39th and Genessee), 39th Street also offers some eclectic shopping options. 
Donna's Dress Shop, on 39th and Terrace (1410 W. 39th St.), features a colorful and attractive array of vintage dresses and accessories. Down the street at 1620 W. 39th St., Retro Vixen sells new clothes with a vintage, pin-up girl aesthetic, as well as shoes, hair bows, jewelry and pillowcases.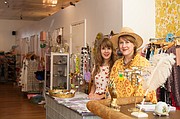 See new styles from Donna's at facebook.com/donnasdressshop, and check out the brands at Retro Vixen online at retrovixenkc.com. 
One of the newest additions to the neighborhood is Sultan's Bakery, which serves a wide variety of baklava and Mediterranean pastries as well as Kurdish tea and coffee.
Highlights include kunafeh rolls, a pastry with layers of sweetened cheese topped with pistachios; the bird's nest, an assortment of nuts buried in layers of phyllo dough and sweetened with rosewater syrup; and the savory fatayer pastries filled with spiced meat, potatoes, garlic, thyme and mint. Sultan's Bakery also sells party trays of baklava for $10 or more. 
Sultan's is located at 1708 W. 39th St. and is open from 10 a.m. to 10 p.m. Monday through Saturday and from 10 a.m. to 8 p.m. on Sundays.
Prospero's Books has been in business at 1800 W. 39th St. since the late '90s, with such an extensive selection of used books and music that the store can hardly contain them all.
Owner Will Leathem regularly publishes volumes of poetry from local writers and hosts live readings and performances each month.
This spring, Prospero's expanded into the second story to make room for more books and events, including local playwright Trudi Homan's one-act play "Just Another Day," which will be performed next Friday, Saturday and Sunday each night at 8 p.m. Tickets are $5 at the door.
In the parking lot across from the Uptown Theater at 36th and Broadway, the Uptown Arts Bar will be hosting the Uptown Arts Bazaar from 10 a.m. to 6 p.m. July 11.
The Bazaar will feature arts and crafts booths, food trucks, and items from the Uptown Theater at garage sale pricing. Admission is free to the public.
Events this week
On stage at Starlight Theatre this week is a presentation of Rodgers and Hammerstein's "Cinderella." The musical will be performed at 8 p.m. each night from Tuesday through Sunday. Tickets are $16 and up at kcstarlight.com.
On Thursday at the Sprint Center, Canadian power trio Rush will bring its 40th anniversary tour to Kansas City for an evening full of hits. The show starts at 7:30 p.m. and tickets cost $46 and up at sprintcenter.com.
At the Kansas City Museum at Corinthian Hall, the local Tejano pop group Las Estrellas will perform a free concert in the courtyard Friday at 7 p.m. Corinthian Hall is located at 3218 Gladstone Blvd. and is near the entrance to Cliff Drive, the state's only scenic byway in city limits.
On weekends, starting on Friday afternoon and continuing through Sunday evening, Cliff Drive is closed to automobile traffic and is open exclusively to walkers, joggers and cyclists.
During that time you'll see lots of people enjoying the scenery, shade and man-made waterfall along the east end of the drive.
— Lucas Wetzel is a writer and editor from Kansas City, Mo. Know of an upcoming event in Kansas City you'd like to see featured in Kansas City Connection? Email us about it at kcconnection@ljworld.com.