Tonganoxie pays respects to longtime doctor at visitation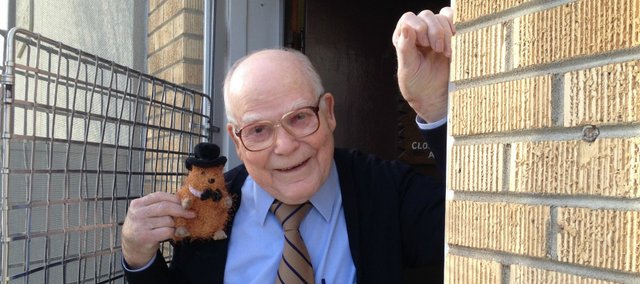 Steve Denny finished playing a song on his bagpipe, the boisterous sound from the instrument still resonating through Quisenberry Funeral Home.
"Could you hear it?" Denny jokingly asked Betty Stevens. "Was it loud enough?"
Dr. Philip Lindbergh Stevens had mentioned on several occasions he wanted bagpipes as part of his funeral arrangements. Family members made sure his wish was carried through.
Stevens celebrated exactly 60 years of practicing medicine in Tonganoxie.
That night, he went to bed after a day of visitors wishing him well and numerous others congratulating him through social media posts.
Stevens didn't wake up the next morning.
The 87-year-old affectionately known to many as Dr. Phil or Tonganoxie Phil died in his sleep.
At Monday's visitation at the funeral home, guests stopped to pay their respects to Betty, Phil's wife, their six children and many grandchildren. Many visitors then made their way through Stevens' office across Fourth Street.
About 20 years ago, a patient asked Stevens when he would retire, according to Stevens' obituary, which appears on page 3A of today's newspaper.
"When they put my name up in Quisenberry's window," Stevens said, referring to a small sign near the funeral home's front door announcing upcoming services.
Denny, dressed in full Scottish regalia, played his bagpipes Monday night in the waiting room and the main patient room in Stevens' office.
In the patient room, friends and family gathered as Denny played a song to an empty office chair, the one Stevens sat in when chatting with patients about their ailments — and sometimes other affairs of the day once he had diagnosed the illness.
Composite baby photos adorned the south wall of the room, a reminder of the babies he delivered in his early years of practice. Stevens delivered more than 300 babies in the area, some of whom still were patients of his until his death.
The longtime doctor was known for his calming demeanor and easy smile.
Folks called him Tonganoxie Phil because a radio station started contacting him every Groundhog Day to ask whether he saw his shadow that morning. It was the station's answer to Punxsutawney Phil.
The Mirror continued the tradition when the radio station quit making the annual call. Every year, Stevens had some new entertaining quote about his side job as a weather prognosticator.
Stories about both Stevens' milestone in family medicine and his death were two of the most-viewed posts ever on the Facebook page. Nearly 300 people liked and 69 people shared the story about his milestone. More than 100 people shared the story about his death.
Family members are appreciative of all the kind words that people have posted on social media. They're encouraging anyone who posts about Stevens to use the hashtag #tonganoxiephil.
Funeral services are 2 p.m. Tuesday at Tonganoxie Christian Church's Family Life Center.
Memorials can be made to the Dr. Philip L. Stevens Scholarship Fund at Tonganoxie High School in care of Quisenberry Funeral Home, 604 E. Fourth St., Tonganoxie 66086.