Tonganoxie City Council OKs proposed 2016 budget
Mill levy is lower, but sewer rates will increase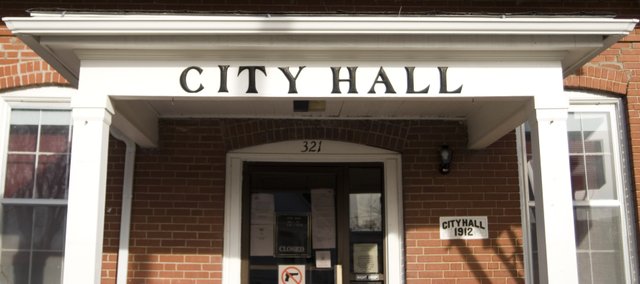 Tonganoxie's 2016 budget will come with a lower mill levy, but residents will see an increase in sewer rates in the new year.
The Tonganoxie City Council discussed the budget for a final time before the budget is published in The Mirror for the public's review.
The proposed mill levy for 2016 is 43.604. That's a decrease of about a half-mill from the 2015 rate of 44.175.
A mill is $1 in taxes for every $1,000 in residential property valuation.
Though that rate is lower, the council approved a $2 increase for sewer services. That will increase residents' rate from $9.50 to $11.50. The hike is to cover increased debt for sewer improvements. Sewer debt increases by $50,000 next year. The rate stays steady until another sizable increase in 2021.
The council voted, 4-1, with Council Member Jim Truesdell voting against the proposal.
A public notice will be published in The Mirror and a public meeting held to discuss the proposed budget before its official passage next month.
City Hall to move
A longtime government building in downtown Tonganoxie will return to that function.
The council approved, 4-1, an agreement to purchase the Tan Time building in the 500 block of Fourth Street for a new city hall. The city and owner Dimmy Knipp agreed to a price of $55,000.
The space previously was home to the Tonganoxie Post Office for several years before it moved to its current location north of U.S. Highway 24-40.
Truesdell opposed the motion.
The council will continue to hold council meetings in council chambers at 321 Delaware, while the new city hall will be to just around the corner to the west on Fourth Street.
Council takes another step forward with police station
The Tonganoxie City Council will look to repurpose an existing building for the city's police station.
The council voted, 4-1, to pursue an existing facility for a new station. The motion didn't specify which building, though the council has heard from police Chief Jeff Brandau and some of his officers that Cornerstone Family Worship at Sixth and Church streets would be a viable possibility for a new station.
Truesdell made an original motion to pursue a new building on city property, whether that be at Third and Main streets or east of the fire station on Fourth Street.
That motion failed, 3-2, as Curtis Oroke, Chris Donnelly and Andy Gilner voted against the measure. Kara Reed and Truesdell voted in favor of that plan.
The station currently is across the street from City Hall in a building that's home to a handful of businesses and the Tonganoxie Recreation Commission.