Face to Face:
LCHS

president Crystal Swann Blackdeer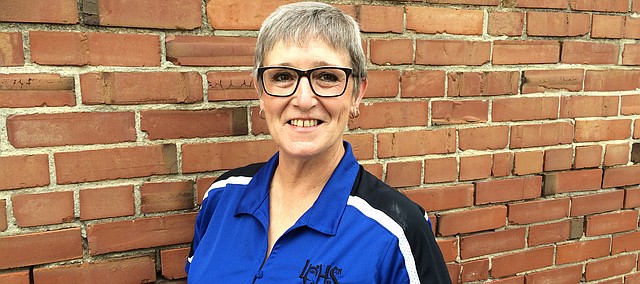 Name: Crystal Swann Blackdeer
Born: Sept. 1, 1959, in Huntington, W.V.
Occupation: Full-time volunteer as president of Leavenworth County Humane Society, Inc.
Family: Husband, Dirk; three dogs and a few cats, usually with one or two foster pets waiting to meet their permanent families.
Dream job as a child: I went back and forth between wanting to be an EMT and wanting to be a veterinarian.
"My folks used to joke that I wanted to be the whole world's mother," Blackdeer said. She was also an avid reader, camper, bicyclist, roller skater, swimmer and water-skier.
Interesting facts: Swandeer has an extreme fascination with roller derby, particularly the Kansas City Roller Warriors. She also was her county's representative to Maryland's Junior Miss pageant in 1975.
Digging deeper: Blackdeer grew up in West Virginia, then moved to Maryland with her family for high school, graduating in 1976 at age 16. Her professional life included working at a law firm, bank and K-Mart and waiting tables before she embarked on her Army career after graduating from Marshall University. After 22 years in the Army Reserve and then active service, she wanted to do something entirely different. She took veterinary technician courses and volunteered at a shelter before being asked to take on her current role with LCHS, Inc. She and Dirk have lived in Leavenworth County since returning from service in Iraq in 2003.
"I always had a fondness for animals, having a variety of pets as a child," Blackdeer said. "I had several pets as an adult before going on active duty in the Army, but my cat Boo was the one who really changed my life direction.
"I got him as a 5-week-old kitten while serving in Korea, and he traveled the world with me. He lived on three continents and two of them twice."
Blackdeer said she told her husband when they married in 1993 that she could forgive many things, but if he let something happen to the cat, they were going to have problems.
Boo lived for 16 1/2 years.
"I wanted to be the best pet owner I possibly could be, taking vet tech courses online and volunteering in a couple of different animal venues to learn all I could," Blackdeer said.
In late 2008, LCHS founders invited Blackdeer to move the organization forward and they launched in June 2009.