What's on your (license) plate?
Leavenworth County issued wide range of tags in 2014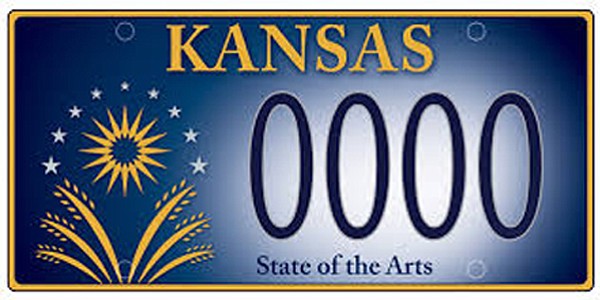 The rivalry between Kansas State University and Kansas University has heated up in recent weeks thanks to happenings on the hardwood.
In Leavenworth County those allegiances are pretty even — at least when it comes to license plates.
Leavenworth County issued 17 new K-State plates in 2014, compared to 16 KU plates, according to Tracy Wiehe with the county treasurer's office.
To have the plates, residents must pay a one-time fee to the treasurer's office and then an annual donation to the school's alumni association.
Donation fees vary for various specialty tags, which cover several organizations and causes.
Wiehe said one-time special plate fees, paid to the county, range in price from $25 to $49.95, which is the fee for KU and K-State tags. Annual renewal to alumni associations or organizations range from $25 to $60.
Agriculture in the Classroom, Amateur Radio Operator, Ducks Unlimited, Emergency Medical Services, Firefighters and Shriner are some of the distinctive organizational plates. Military plates range from Combat Wounded Purple Heart and Congressional Medal of Honor to Pearl Harbor Survivor, Disabled Veteran and Vietnam Veteran and U.S. Veteran.
Other plates are available for In God We Trust, Kansas Horse Council, Families of the Fallen, Pet Friendly, Gold Star Mother and Donor for Life.
The State of the Arts plate, which the Kansas Creative Arts Industries Commission unveiled in 2013, helps KCAIC. The annual fee is $50 for the plate, which solely goes to the commission to fund arts program across the state.
"It is nice to have that option if you want a different plate," Wiehe said.
And even more options are being rolled out this year.
The previous personalized plate, which displayed a sunset with a windmill and wind turbine on each side of the state seal, was issued from 2010-14.
The new personalized plates have part of a sunflower on the left side of the plate with "Kansas" across the top and "Sunflower State" across the bottom.
In 2014, Leavenworth County issued 17,729 standard plates. Those tags went to both new vehicles or renewals that were in line to receive the newest standard plate, which is a blue tag with the off-centered state seal in the background. The county also issued 906 standard motorcycle tags, 300 regular disabled tags, 204 regular antique vehicle tags and one disabled motorcycle tag.
Military tags were the most popular distinctive tags.
The county issued 575 regular veteran tags, 86 disabled veteran tags, 69 veteran tags for motorcycles, 54 Vietnam veteran tags, 14 National Guard plates and one Families of the Fallen plate.
Residents selected 65 In God We Trust tags and 35 firefighter plates in 2014, as well as 14 for Breast Cancer Awareness and five Ducks Unlimited plates.
Pittsburg State University had some new representation in Leavenworth County with six new tags in 2014, as did Fort Hays State University with three and Wichita State University and Washburn University each with one.
Supporters of Benedictine College in nearby Atchison purchased three new distinctive tags for 2014, but boosters of Leavenworth's own University of Saint Mary could be promoting their school on bumpers soon.
Wiehe said there's a state bill to add USM to the list of distinctive college tags.
Other current collegiate options are Emporia State University and Friends University.
For more information about license plate options in Leavenworth County, call the treasurer's office at 913-684-0430.