Kansas City Connection: Sorting through the hoopla of the Big 12 tournament
March Madness begins in earnest next week in downtown Kansas City, as the Big 12 men's basketball tournament returns to the Sprint Center from Wednesday through Saturday. After watching these teams duke it out all year in an especially competitive conference season, it will be fun to see a barrage of Big 12 matchups over the course of just a few days.
Tickets are available through StubHub or via on-site scalpers, but anyone hoping to soak up some of the basketball atmosphere should check out the Big 12 GameDay Festival along Grand Boulevard, a kid-friendly event that includes free-throw, half-court and three-point-shooting contests, along with other fun and games throughout the weekend.
The GameDay Festival runs from 3 p.m. to 7 p.m. Wednesday, 2 p.m. to 7 p.m. Thursday, noon to 7 p.m. Friday and 10 a.m. to 5 p.m. Saturday.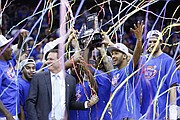 Within the Power and Light District courtyard (which sports fans may have seen footage of on World Cup and World Series broadcasts last fall), the Miller Lite Fan Fest will be open to fans of all ages until 9 p.m., when it becomes 21 and over. The Fan Fest includes pep rallies, watch parties, food and drink, and giveaways.
At 10 a.m. Saturday, runners of all ages are invited to join the Big 12 Run & Family Stroll, featuring 5K and 12K routes, with a medal going to all finishers. Visit Big12sports.com for more information about the tournament, or check out visitkc.com/Big12basketball for activities and events surrounding the tournament.
The Power and Light District offers plenty of solid bars and restaurants to choose from for lunch, dinner and drinks.
Gordon Biersch has a great lineup of beers on tap, and Bar Louie offers a similar upscale sports bar ambience and tasty burgers, salads and sandwiches.
Johnny's Tavern often feels like it has more flatscreens than people, even when it's packed, so look for that to be a fan hotspot as well.
The new Cleaver & Cork restaurant (at 1333 Walnut St. in the former Maker's Mark location) opened just last month, with a meat-centric menu overseen by Local Pig butcher Alex Pope. Cleaver & Cork opens each day at 4 p.m. for appetizers, dinner and wine and cocktails.
The items here are a little pricier than at the establishments mentioned above, but given the parties involved I would expect them to be a higher quality as well.
For anyone just looking for a quick, affordable bite between games, I recommend the humble MeMa's Bakery, a locally owned operation that sells great croissant sandwiches, panini and baked items.
Or hit the salad bar, deli, bakery, sushi bar or ice cream counter at Cosentino's Downtown Market for a quick bite.
On stage
At the Kansas City Repertory Theatre, the Tony Award-winning play "Angels in America" will be performed through March 29 at the downtown Copaken Stage at 13th and Walnut.
The play, written by Tony Kushner and directed by David Cromer, is set against the AIDS crisis of the mid-1980s, and will be presented along with its seldom-performed second part, "Perestroika." For tickets, visit kcrep.org.
One of my top albums of 2015 so far is the self-titled debut from Calgary-based band Viet Cong.
Their name won't endear them to any U.S. veterans groups, and it's already resulted in at least one concert cancelation on this tour (at Oberlin College in Ohio), but the band's precision guitar work, vocal snarls and tightly crafted songwriting should make this Wednesday night show at the Record Bar a memorable one. Lawrence's Muscle Worship and Kansas City's Monta At Odds open the show, which starts at 9:30 p.m. and costs $10.
On Friday night, reunified garage rockers The King Kahn & BBQ Show will bring their jangly, raucous two-man musical circus to The Riot Room. Tickets are $15 at theriotroom.com. Doors open at 8 p.m. and the concert begins at 9. Milk Lines and The Josh Berwanger Band will open.
— Lucas Wetzel is a writer and editor from Kansas City, Mo. Know of an upcoming event in Kansas City you'd like to see featured in Kansas City Connection? Email us about it at kcconnection@ljworld.com.