Tonganoxie
USD

464 lays out reasons for principal's termination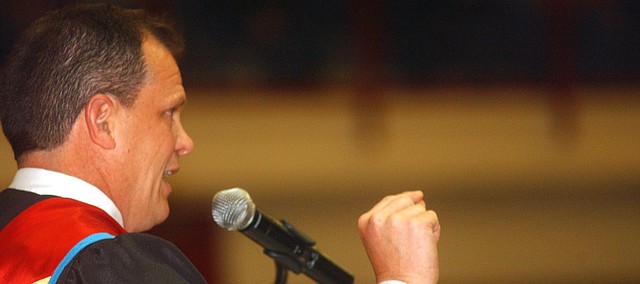 Editor's Note: Subsequent to the publication of this article, the following developments occurred: 1. No charges were filed in connection with Jamie Carlisle's employment with the Tonganoxie School District; 2. Carlisle disputed all allegations against him in a formal hearing with the district.
The Tonganoxie USD 464 School Board has laid out the reasons for terminating its high school principal's contract.
Board members voted, 7-0, on a resolution to terminate Jamie Carlisle's contract based on financial and computer misuse, as well as misrepresentation in attempting to obtain a school administrator's license for another employee.
The reasons for termination were spelled out in the resolution:
• Establishing a bank account with First State Bank and Trust under the name THS-Technology controlled by Carlisle through which he had channeled district funds without proper authorization that Kansas law and board policies require.
• Contrary to district policy relating to use of computers and the Internet, on work time engaging extensively in use of the Internet for his own commercial purposes and making personal purchases of property through the Internet.
• Obtaining, or attempting to obtain, a school administrator's license for another district employee from the Kansas Department of Education by fraudulent means and misrepresentation of material facts contrary to KSDE regulations and district standards of performance and conduct
Carlisle is entitled to a hearing before a board committee with regard to the School Board's action. He has 15 days from the date of the notice to request a hearing. Superintendent Lyn Rantz said after the meeting that board members Kay Smith and Dan Hopkins made up the board committee.
Asked whether any of the reasons were connected to an ongoing investigation the Leavenworth County Sheriff's Office has been conducting, Rantz said the item involving a bank account was connected to the investigation.
She said law enforcement officials continue to work on the case.
Carlisle first announced his resignation in December, effective when his contract ended in late June.
But last month, Carlisle no longer was the high school principal. Rantz declined to discuss Carlisle's departure, saying that she couldn't comment on personnel issues.
At that time, the sheriff's office said Rantz was conducting an investigation within the school district at Rantz's request, but Undersheriff Jim Sherley declined to divulge to whom or what the case pertained.
Tonganoxie Middle School Principal Mark Farrar was moved to the high school to assume duties of interim principal on the east campus, while assistant principal Brent Smith remained in his position on the west campus.
The board approved Farrar at Monday's meeting as THS principal for the 2015-16 school year.
It also accepted the resignation of Val Carlisle, Jamie's wife, at the meeting. She was secretary at the district's central office.
No hires were announced for TMS. Mark Altman, the middle school assistant principal, has served as interim principal with Farrar's move to the high school.
Jamie Carlisle started as THS principal in the summer of 2007 after serving as an administrator in Baxter Springs.