At the helm in Tonganoxie
Fire chief getting acclimated to community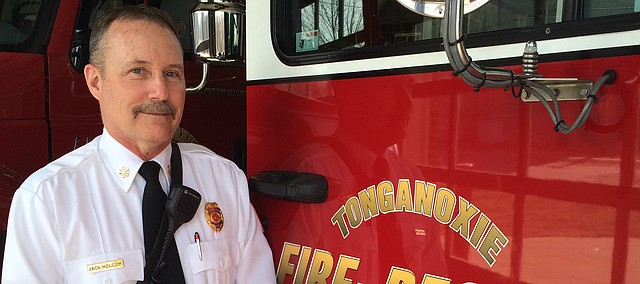 Jack Holcom received good news upon his start as Tonganoxie City's fire chief.
The city's Insurance Services Office is going from a 6 down to a 3, "which is outstanding for a community of this size," Holcom said.
"It demonstrates the current and future business growth, the commitment of the community to water supply, infrastructure and the fire department itself, its personnel," Holcom said.
The ISO rating reduction translates to a reduction in insurance premiums. The rating will take effect later this year.
Holcom retired after nearly 26 years in the Olathe Fire Department to pursue the fire chief position in Tonganoxie.
He said he has several goals in mind for his new department. For instance, he wants to increase the number of volunteer personnel in the department.
"I know people are busy with personal lives and jobs, but it can also be very rewarding to help neighbors in need and help the community," Holcom said.
The department has six career firefighters who alternate among three different 24-hour shifts with two firefighters on each shift. The department also has six part-time personnel who work to help fill in shifts as needed. There also are six volunteer firefighters, but Holcom would like to move that number to between 12 and 14.
A Salina South High School graduate, Holcom, 55, said he grew up on the outskirts of Salina and spent lot of time in his youth in nearby Gypsum.
He worked 10 years in the Salina Fire Department before heading on to Olathe.
"It's been very refreshing," Holcom said of the move to Tonganoxie. "It brings me back to my roots and where I fell in love with the fire service. There's a more direct connection with the community, a tighter bond because of the smaller group of personnel.
"I have the opportunity to know them a little more, their families, their likes or dislikes."
Holcom actually worked in construction out of high school and traveled a bit with the job.
He came home one weekend and his father told him he needed to get a job with vacation and benefits.
His father circled several jobs, including one with the Salina Fire Department.
"My first day I got fitted in some used gear and jumped on the tail board of a fire truck after sliding down the pole and went to fight a fire," Holcom said. "I was hooked."
Holcom has taken fire science classes through Hutchinson, Johnson County and Kansas City Kansas community colleges, as well as the Kansas University Fire and Rescue Training Institute and the National Fire Academy.
He and his wife, Staci, have four children: Cody in Salina, Cole in Paola, Tyler at KU and Tess at home.
Holcom said he's working with personnel to schedule an open house to feature the department's addition.
He said pavement work and signage soon would be completing the project. Anyone visiting should ring the bell at the double doors to the station's expansion at 825 E. Fourth St.
Holcom took the helm of the department after Dave Bennett resigned a few months ago. Bennett served the fire department in various capacities since 1987 and led in the building of the fire station's expansion, which firefighters built themselves.