Scientifically speaking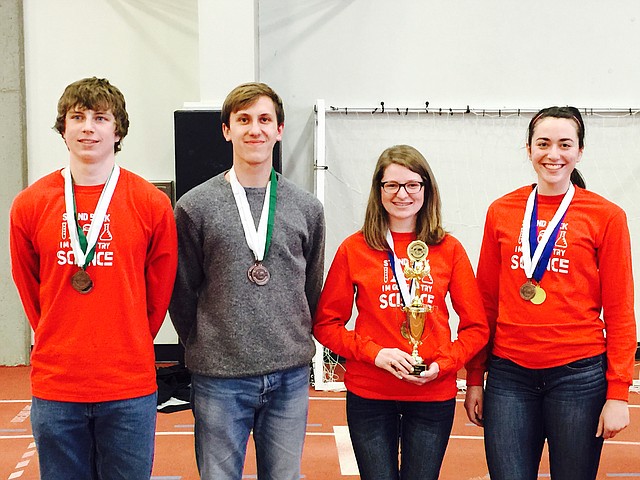 The Tonganoxie High School Science Olympiad team continues to make a name for itself on the state level.
"Our first year at state, they didn't know how to pronounce Tonganoxie," said Christine Biel, one of the team's coaches. "They mispronounced it 20 times.
"But now that we've been there awhile, they know how to pronounce Tonganoxie."
THS placed third at regionals a few weeks ago with 125 points. Like golf or cross country, low score wins.
St. James Academy won the regional with 70 points, while Olathe North placed second with 88. McLouth came in eighth with 208 points
When THS heads on to state April 4 at Wichita State University, the squad will compete in the small school division. That means Tonganoxie was the top small school in the region.
"They just go do their thing and we just kind of field any problems," Biel said. "It's all the kids. We have a great science department. They are rock stars."
Fellow teacher Tracey Waldeier coaches with Biel.
At regionals, Tonganoxie took home first place in three events.
Grace Reilly and Danielle Irwin won first in anatomy, while Spencer Finkbiner and Monica Maurer teamed up to take first place in the disease detectives event. And taking first in protein modeling were Reilly, Finkbiner and Sierra Staatz.
Tonganoxie's second-place finishes came in astronomy (Staatz and Nick French) and the scrambler competition (Anahi Puebla and Ethan Sandburg).
A trio of teams earned bronze medals at regionals. Jack Crow and Brad Andrews placed third in bridge building, while Finkbiner and Joshua Lingo took third in cell biology. Crow and Garrett French placed third in compound machines.
Taking fourth place were Nick French and Crow in air trajectory and Lingo and Nate Bothwell in green generation.
Tonganoxie also had some fifth- and sixth-place finishes at regionals.
Garrett French and Andrews placed fifth in fossils, as did Sandburg and Puebla in the "mission possible" event and Tollefson and Allison Williams in the "Wright stuff" competition, which involves airplane building.
Finishing sixth in dynamic planet were Williams and Staatz and in geological mapping, Nick French and Tollefson.
Biel continued to praise the THS team, noting many schools have an actual Science Olympiad class devoted to preparing for the competition. At Tonganoxie, students generally practice and prepare for events outside of school hours.
"It's amazing," Biel said. "They just work their little hearts out."
Other teachers in the THS science department also do their part to assist with preparing the students.
Teachers John Tollefson, Shawn Phillips and Kristen Rhoads have contributed to this year's Science Olympiad efforts.
"We really could not have done it this year without them," Biel said. "I really need to bake them a cake or something. They were just awesome. Holycow."
THS has a little bit of time to prepare for state next weekend at WSU.
Tonganoxie placed second at state in the small school division last year behind Goodland.