Facebook and the election
Social media playing role locally in campaign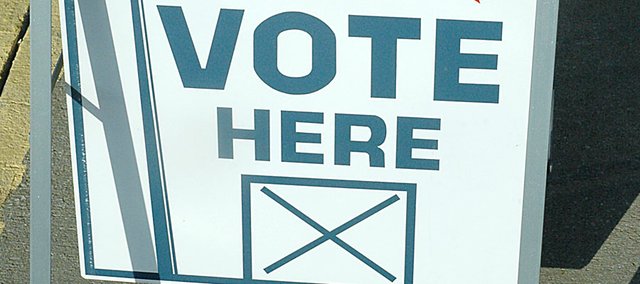 A forum for Tonganoxie City Council and Tonganoxie USD 464 School Board candidates gave those running in various races the chance to debate and explain their perspectives.
With so many candidates, though, some might have preferred more opportunities to debate and discuss.

Enter — for better or worse — Facebook.
Several candidates in this year's election have embraced social media as a way to get their name more visible in the public and drum up support.
The medium also has been a hot spot for debate.
Kaija Baldock is running for the position 2 school board position against fellow challenger Bill Loechler and incumbent Kathy Baragary.
On Baldock's page, Kaija Baldock for School Board, she posted that the school board and Superintendent Lyn Rantz have stated publicly that cutting middle school sports may be a way to help balance a budget that will see more shortfalls in the coming years.
On Tuesday, Baldock said she was referring to the topic of potential budget cuts that were discussed at a recent school board meeting, including the trend some districts have embraced of four-day school weeks as another cost-saving measure.
She emphasized that her post said that the middle school athletics cuts "may" be a way to help balance the budget and that she was seeking others' input.
The post had 31 comments and three shares.
Baragary posted "Actually, what I think I said was that other districts had already taken that step."
Rantz also commented on the page, noting that she normally didn't engage on Facebook and that she thought there were better ways of having discourse.
She stated in her post that the board has not had any conversation of cutting middle school sports.
Asked Monday by phone, Baragary concurred.
The thread included posts with links to articles on both sides of a debate about what sports' role should be in academic settings.
Baldock said she was encouraged that so many members of the community engaged in the conversation.
Passionate posts
Curtis Oroke is running for a Tonganoxie City Council seat.
He has two Facebook pages, his original page and another he started in February, when the campaign was in full swing.
Oroke, a lifelong Tonganoxie resident, has posted City Council information on both his pages and has posted his opinions while utilizing the social medium as a way to campaign.
A post in late February, though, has drawn concern.
Oroke, who builds homes, was working on a house for Tonganoxie resident Ann Jarrett, who had lost her previous home in a fire.
Someone broke into the unfinished home and stole some of Oroke's equipment. Upset about the situation, Oroke took to Facebook, using expletives. In the post, he said "Smith and Wesson are at my house, come visit me."
A letter sent to The Mirror raised concern about the hostile tone of his post.
The post no longer is on Oroke's page. He said he took it down because his construction trailer had been stolen two weeks later and the situation was under investigation.
He said he'd lost more than $13,000 in tools and supplies with the stolen trailer.
"That's why I'm so bitter about it," Oroke said. "It used to be in this community, we could leave our tools go to lunch and those tools would be there.
"You can't leave anything unlocked. If you leave keys in your vehicle, it's gone. It's a shame it really is."
Another of Oroke's statuses that raised concern was one he posted last summer about service at Rice House, a Chinese restaurant in Tonganoxie.
Oroke posted that the server was rude, using an expletive to describe her.
On Monday, Oroke said it's possible she was having a bad day, but said if a person is going to run a business, they should be polite. He said he was just putting his opinion out there."
"I probably shouldn't have said some of the things I said," Oroke said. "There's a lot of things I probably shouldn't say and do … I'm not saying I'm politically correct."
At the same time, he said it's not his intent to make enemies.
Another candidate page
Fellow City Council candidate Mike Vestal has a Facebook page for his campaign.
Vestal previously was on the council 1989-97 and then was mayor 2007-10.
He said he's been utilizing social media since starting his campaign.
"I think it gets their attention," Vestal said. "I don't put anything negative about our city on there … I just don't go there."
While Vestal was mayor, he had sent out obscene emails to another council member. He offered to resign a previous time after an inappropriate email had surfaced. He voluntarily resigned after admitting he sent the email a council member. He said he wanted to take the focus away from the city.
"It was a lesson well-learned," Vestal said. "I'm trying to be a good person and better person than I was."
Vestal previously was on the council when the current Tonganoxie Public Library was built.
With discussion about a new library being kicked around, Vestal has been an advocate for starting a library foundation to raise money with private funds and keep the burden off the taxpayers as a whole.