Tonganoxie voters to use paper ballots Tuesday
Clerk cites cost savings for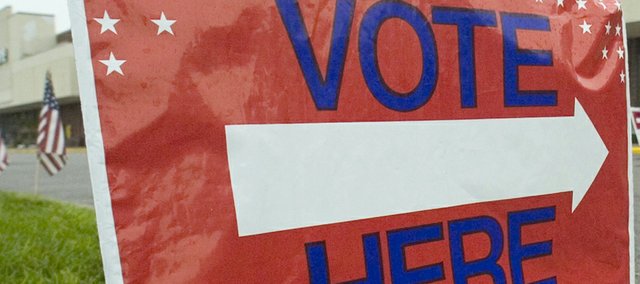 Tonganoxie voters won't cast ballots on electronic machines Tuesday.
Leavenworth County Clerk Janet Klasinski has opted for paper ballots as a cost-saving measure. No machines means fewer transportation costs. Klasinski said the decision also allowed her to reduce the election-worker staff by one.
"In the past, we've had only 8 percent turnout," Klasinski said. "I'm anticipating more than that this year."
She said several people have cast advance ballots at the Leavenworth County Courthouse.
Here's a list of candidates in local races:
TONGANOXIE SCHOOL BOARD
Position 1
• Amelia C. Brusven
• Diane E. Truesdell (incumbent)
Position 2
• Kaija Baldock
• Kathy Baragary (incumbent)
• William (Bill) Loechler
Position 3
• Gene Becker (current Position 7 at-large member)
• Michelle McGhee
Position 7
• Tamara Behm
• Bryan D. Kemp
TONGANOXIE MAYOR
• William (Bill) T. Peak (current council member)
• Jason Ward (incumbent)
TONGANOXIE CITY COUNCIL (2 seats)
• Charles L. Conrad
• Susan M. Freemyer
• Melynda Harbour
• Kara Reed (incumbent)
• Curtis Dean Oroke
• Michael W. Vestal
LINWOOD MAYOR
• Steven Campbell
• Brian E. Christensen
LINWOOD CITY COUNCIL (2 seats)
• James Blancarte
• Brian Carter
• Eric T. Koontz
MCLOUTH CITY COUNCIL (3 seats)
• George Bowen
• Dixie Jones
• Don Nowak
• J. Michael Woodhead
• Harlan Woodring
McLouth USD 342 School Board has four positions open, but only one is contested. Michael lark, Kim Troupe and Scott Weissenbach are vying for Position 7.
The district also has a bond issue before voters that would fund several improvements throughout the school, as well as the high school track.
Basehor-Linwood USD 458 has four positions up for election, but just one, Position 3, is contested. Gary W. Johnson is facing Jeanette Klamm in that race.
Basehor City Council has three people running for three seats.
PRIMARY CHANGE
Local city council and school board races should be decided early next week barring any recounts. But some of the crowded races this year would have required primaries a few years ago.
Local Kansas races previously had primary races if there were more than two candidates running for a seat.
State law, though, changed in 2011 and more candidates were required for the run-off, Leavenworth County Clerk Klasinski said.
Local entities had to pay for those additional elections. School district and municipal representatives were looking for ways to save money, and a change in law was one way.
Now, races require three candidates plus another to run, so four candidates for one seat would be required.
Tonganoxie USD 464 has three people running for Position 2. And Tonganoxie City Council has six candidates vying for two seats.
If a primary would be required for school board, only voters in the district the position represents would be allowed to vote.
For the general election, all residents within Tonganoxie USD 464 vote in each race.
All Tonganoxie City Council members are at-large seats, so voters cast ballots in all races.