Celebrating Tonganoxie Elementary School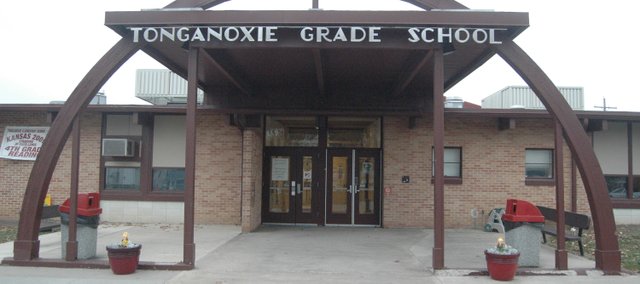 Former students, teachers and other community members will get the chance to relive decades of memories later today.
The farewell celebration for the current Tonganoxie Elementary School will be 6-8 p.m. today at the school.
TES teacher Gail Kiefer said tables would be set in the cafeteria with projects and displays a class has put together.
Interesting facts will be posted on the walls throughout the building and speakers will begin to tell of the longtime school at 6:30 p.m. A slideshow also will be shown.
The original Tonganoxie Elementary School opened in 1955.
Anyone with memorabilia or items from years past from the school who would like to share the items for today's event are encouraged to contact Gail Kiefer at 913-845-2290 or gkiefer@tong464.org.
Kiefer said a few things have been dropped off for the event, including yearbooks.
The current TES will close at the end of this school year as the students and teachers prepare to move into a new facility that's been built southeast of Tonganoxie Middle School near Washington Street.
Students in kindergarten through fourth grade will move into the new school. The current middle school is a grades 5-8 building. The new school will have students in grades K-5, while TMS will be a 6-8 facility starting in August.
The new elementary school was made possible through a $27.2 million bond issue that voters approved in November 2012 with 62 percent of the vote.
Though there's excitement surrounding the move to the new facility, it's a bittersweet time, as many have gone through elementary school at the building through the years.
The future of the building is uncertain.
A company that repurposes buildings into retirement communities is looking at the property.