Tongnoxie
USD

464 board cuts teacher position, freshman athletics events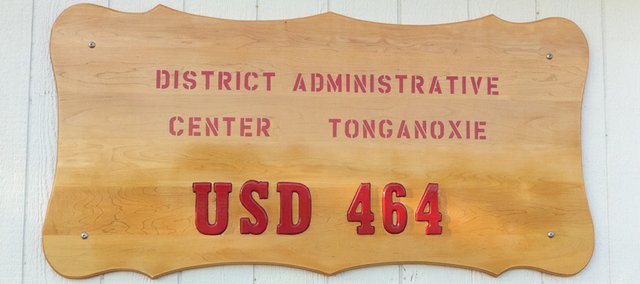 The Tonganoxie School Board made its first rounds of budget cuts, including letting go of a music teacher and shrinking athletics offerings.
The board approved, 6-0, not to renew the contract of middle school music instructor Kimberlyn Angelo.
The possibility of eliminating Angelo's position first surfaced during a special meeting last week at which the board went through possible cuts in light of anticipated shortfalls with the state's new block funding.
Fellow teachers voiced opposition to the cut at that meeting, while seven middle school students stood outside Tonganoxie High School with signs supporting their teacher before the meeting. Students were advertising the hashtag #saveangelo that they were using on instagram to drum up support for their teacher. More of Angelo's students joined those with signs inside the Chieftain Room for the board meeting.
The board asked that one student speak on the group's behalf. TMS student Allison Fosdick spoke to the board. She told Angelo's impact on her students, her ability to organize many events and the concern that the department would struggle with reducing the staff down to one teacher.
"We don't want her to leave," Allison said. Without her, the music program would be lost."
Angelo, who came to TMS in 2012, also spoke to the board. She said the duties were too much for one teacher and she was concerned many events and programs would be discontinued because of the reduction.
Superintendent Lyn Rantz said the district had "two outstanding band teachers" at the middle school in Angelo and Charles Van Middlesworth, but that their schedules were similar. A reduction in staff would not impact students, Rantz said, noting the same music classes would be offered next year. Van Middlesworth, who also teaches band classes at the high school, had submitted a letter to Rantz laying out how he would be organizing time and offerings for students at the middle school.
Rantz said the staff reduction would bring a savings of $37,575 "with zero impact on the students."
The board approved a few other cuts and fee increases, including eliminating freshman athletics events in 2015-16.
Freshman still would be able to play sports and play on junior varsity or varsity, but there won't be ninth-grade competitions.
That cut is expected to save the district nearly $46,500 next school year.
The board also approved:
• Eliminating three general education paraprofessional positions across the district.
• Raising annual kindergarten fees to $500, an increase of $160.
• Increasing textbook/technology fees to $100, a hike of $10.
• Raising activity fees to $50 per activity, a $15 increase.
The board plans to discuss further budget decisions at its next meeting, which will be 6 p.m. June 1 at the Chieftain Room on the THS campus.
Carlisle's appeal denied
The school board conducted a hearing with former THS principal Jamie Carlisle. Per board policy, an administrator can request a hearing upon termination. The board terminated Carlisle's contract in March. Carlisle then requested the hearing, which a committee of board members Dan Hopkins and Kay Smith conducted April 28.
Per a statement that board member Kris Grinter read at Monday's meeting, the committee fell in line with the board's previous decision to terminate Carlisle's contract.
Parker resigns as AD
The board accepted the resignations of several personnel, including longtime THS athletics director Brandon Parker. Parker had been athletics director since 2002.
Other resignations came from: Sue Walker, high school counselor and assistant cross country coach; Vicki Henderson, student nutrition; Brian Preston, TMS teacher; Keith Miller, assistant debate coach; Matt Dunning, THS automotive teacher, assistant softball coach; Jesse Leigh, THS language arts, assistant THS varsity football coach, assistant THS varsity track coach; Jordan Poskey, TES fourth-grade teacher; and Phil Jones, ninth-grade basketball coach.