Tonganoxie School Board OKs putting
LOB

question on ballot
Ninth-grade athletics schedules back in play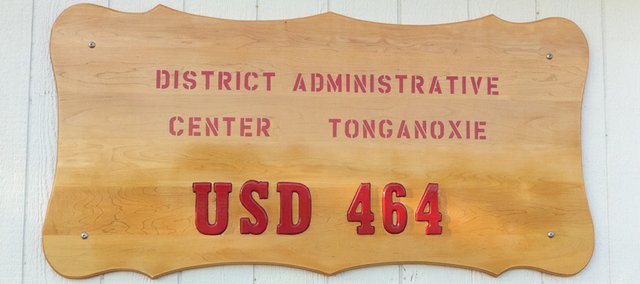 Tonganoxie USD 464 patrons will vote whether to give its school board the authority to raise the local option budget to 33 percent.
The school board also reversed its decision to eliminate ninth-grade athletics schedules at a special meeting Thursday at the Chieftain Room on the Tonganoxie High School campus.
Board Member Kay Smith also directed Superintendent Lyn Rantz to gather information about reductions in middle school sports for the 2015-16 school year.
The decisions came during a 40-minute special meeting that attracted nearly 200 to THS for a meeting that became contentious on multiple occasions.
The board voted, 6-0, to have freshmen schedules for the next school year. Board Member Dan Hopkins was not in attendance.
The board also voted, 4-1, with Kris Grinter abstaining, to put the budget authority increase up for a mail-in ballot election. Gene Becker voted against the measure. The vote is whether to give the school board the authority to increase the local option budget from 30 percent to 33 percent.
If the board were to utilize that entire authority, it would account for anticipated $370,000 in revenue.
For a home valued at $150,000, that would account for an additional $70 in annual property taxes. A $200,000 home would account for $95 more annually and a $300,000 home would have an increase of $135 if the board were to utilize the full 3 percent in LOB authority.
Rantz noted the budget likely would also include a 2-mill increase because of the new elementary school.
Leavenworth County Clerk Janet Klasinski said ballots would be mailed June 10.
Ballots will need to be returned to the courthouse by June 30.
For more on this developing story, check back to www.tonganoxiemirror.com and look for Wednesday's print edition of The Mirror.