Tonganoxie schools closed tomorrow due to Royals championship parade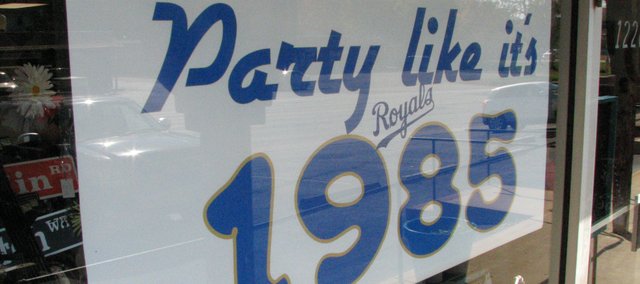 Tomorrow had become a bit of a holiday in these parts.
A noon parade through downtown Kansas City, Mo., will celebrate the Kansas City Royals' World Series championship.
The event, which is expected to have many folks in the metro area heading to the downtown district tomorrow, has prompted several area school districts, including Tonganoxie, to cancel classes for tomorrow.
Tonganoxie USD 464 Superintendent Lyn Rantz sent out a release Monday confirming that Tuesday's classes had been canceled so that the community could join in the celebration.
"This decision was not made lightly, and district leaders weighed many important factors in the decision-making process," Rantz said in the email. "There is growing concern about the district's ability to provide adequate staffing. Our provider of substitute services indicated there are simply not enough substitute teachers available to provide adequate coverage and supervision of students."
Rantz also noted the number of expected absences would make it difficult for schools to provide continuity with the instructional program.
"Many of these expected absences are due to the high interest in attending celebratory festivities in honor of the Kansas City Royals winning the 2015 World Series," she said in the release. "We are announcing our decision as early as possible to allow parents/guardians time to make alternative plans, if necessary."
Extracurricular games and activities scheduled for Tuesday will proceed as scheduled unless otherwise notified.
Basehor-Linwood, Lansing, Leavenworth, Bonner Springs and Mill Valley are some of the other area schools also cancelling tomorrow's classes. The day off will count as one of Tonganoxie's inclement weather days.
The Royals defeated the New York Mets, 7-2, Sunday in Game 5 of the series at Citi Field. Kansas City won the best-of-seven series, 4-1. The game went 12 innings, marking the second time in the series the team's needed extra innings to decide the winner. Game 1 went 14 innings, a contest the Royals won at Kauffman Stadium.
Kansas City won its second World Series Championship on Sunday. Kansas City won its first World Series 30 years ago when the Royals defeated the St. Louis Cardinals in seven games, after trailing at one point in the series, 3-1.