Fierce fans in Salina
Support helps
THS

take 4th at state volleyball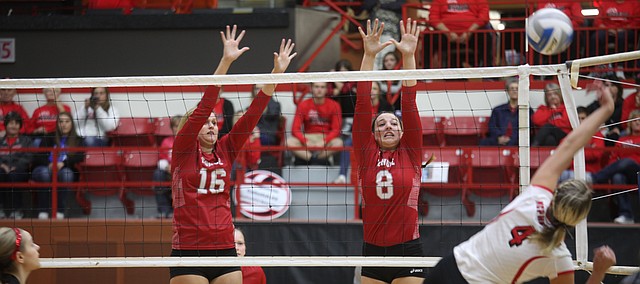 Tonganoxie High advanced to Day 2 of the Class 4A Division I state volleyball tournament, thanks in large part to a rally for the ages.
No. 4 THS had won its first set against No. 5 Andale, 25-17, but was down 16-1 against the Indians in the second set.
"That was a pretty good little chunk of change right there," said THS coach Tiffany Parker.
A 15-point deficit certainly is, but from there on out, the Chieftains were money.
They finished out the set with 24-6 advantage, winning that second set, 25-22. With the team down 22-12, senior Lauren Jackson served 13 straight points to help push the Chieftains to victory.
"We've kind of been that team all year," Parker said, referring to the squad's never-say-die attitude. "Mykah Wingerter played well. Cheyenne Ford played well. When our middles are playing well, it opens up other options for us."
THS took care of No. 8 Wellington in the second match Friday. Wellington led, 15-14, in the first set and was tied with the Chieftains, 17-17, but a 6-0 THS run was too much for the Crusaders. THS won, 25-18, and then finished off WHS in the second set, 24-11.
Parker credited the THS student section for helping the volleyball team on Friday. Roughly 120 students made the nearly 2.5-hour drive from Tonganoxie. The Chieftain student section was one of the more rambunctious fan groups there Friday at Salina's Bicentennial Center.
Parker said her team fed off the student section's energy.
"They gave us a lot of support, Parker said about the THS student body. "They (her team) played for them."
The arena hit a higher sound level when No. 4 Tonganoxie and No. 1 McPherson battled.
Students sections side-by-side, Bullpup and Chieftain fans cheered loudly as the match began, but it was McPherson fans who had the most to cheer about in the first set.
MHS' height and ball placement seemed to give the Chieftains fits. McPherson won the first set, 25-12.
Tonganoxie, though, battled back in the second set. THS had a 5-point lead on several occasions and led, 15-10, at one point. McPherson, though, chipped away at the margin. The game was tied several times late in the match. It was last tied, 20-20, before MHS was able to pull away for a 25-23 victory.
Tonganoxie's 2-1 record in pool play advanced the team to Saturday's semifinals, but THS couldn't quite measure up to eventual champion Bishop Miege. Tonganoxie lost in two sets, 25-9, 25-11, to Miege. The team placed fourth at state after losing to Louisburg in the consolation match, 25-19, 25-17.
"We played against some really good teams," Parker said. The teams we played agasint had a height advantage on us ... they have girls who play a lot of year-round volleyball. "And for most of them, that's all they do. We have a lot of multi-sport athletes. I felt like we played as a well as we could. I'm not disappoint in how we played Saturday. We never gave up. we did what we could against them."
THS finished the season 29-14 in its first state appearance since 2007 when the Chieftains finished third, the highest place in school history.
Parker again praised the student section for its support, something other teams also noticed. Parker said Miege coach Gwenn Pike asked her how THS was able to attract such a large following.
"The Miege coach said her kids were jealous of our student section," Parker said.
Jackson and Hummelgaard were named to the all-tournament team, while Jackson, Cheyenn Ford, Emily Eberth, Kaitlyn Hall, Halley Calovich and Cassie Gratton played in their final volleyball competition as THS players.
"Even though we ended up fourth, I think our team was the buzz of the tournament, Parker said. "A lot of that had to do with our crowd, our student support, our parent support, our alumni suprpot. We had a lot of alumni who came and watched. And without them, it's just another tournament."