Tonganoxie city officials readying for Mayor's Christmas tree lighting; police station continues to be hot topic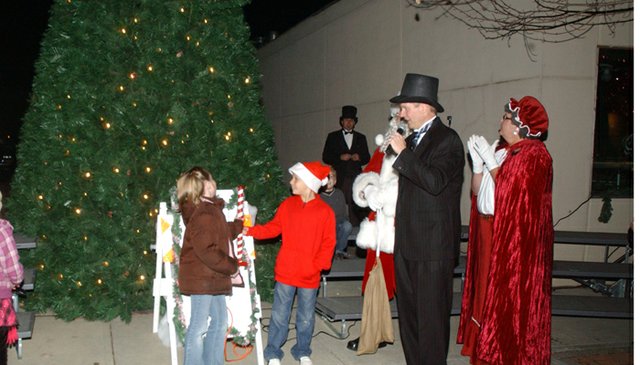 City officials are preparing for the Mayor's Christmas Tree Lighting later this month.
The event will run from 3-6 p.m. Nov. 21 in downtown Tonganoxie.
Carriage rides and various entertainment are planned for this year's event, along with the tree lighting as it gets dark that night.
The tree again will go up in the downtown pocket park at Fourth and Delaware streets.
Last year was the first year the tree was displayed in the park.
This will be the first year the tree will have the backdrop of murals. The first mural was painted in September.
The second, which is just north of the tree area, was completed Tuesday on the south side of the Tonganoxie City Council chambers.
This year's event is expected to have an old-fashioned theme.
Entrepreneurs Achieving Success Together spearheaded many activities last year and decorated downtown to resemble Whoville. Last year's had a "Grinch" theme.
City officials are organizing this year's event.
Police station hot topic
Tonganoxie City Council next will meet at 7 p.m. Monday in council chambers. A new home for the Tonganoxie Police Department likely will continue to be a hot-button topic.
The council approved, 3-2, to begin talks with Cornerstone Family Worship about acquisition of its church for a new police station.
The church agreed to release its asking price for the Nov. 2 meeting, which was $275,000.
Members Kara Reed and Curtis Oroke voted against the measure, while fellow members Andy Gilner and Chris Donnelly voted in favor. Council Member Jim Truesdell was absent, so Mayor Jason Ward broke the tie.
The church agreed to release its asking price for the Nov. 2 meeting, which was $275,000.
JW Evans of Evans Real Estate was in the audience for the meeting and asked the city to check appraisals of the building.
He has been involved in the sale of other churches in the city and thought asking price was substantially higher.
The council's vote merely was for city staff to begin talks about the possible acquisition of the church, which is at Sixth and Church streets in Tonganoxie.