Carriage rides, music highlight tree lighting event Saturday
Library festivities, pancake feed also planned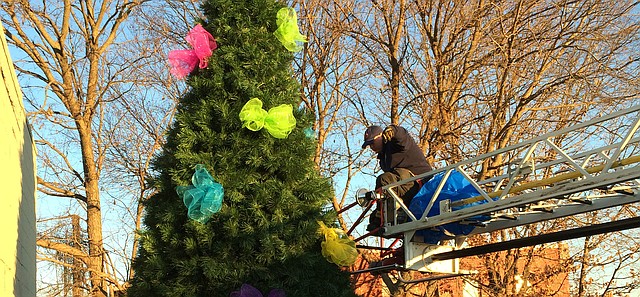 Tonganoxie Mayor Jason Ward hopes weather will cooperate for Saturday's holiday festivities.
The Mayor's Christmas Tree Lighting is set for 3-6 p.m. that day in downtown Tonganoxie.
Carriage rides will be offered for visitors attending the event, while vocalists from Tonganoxie elementary, middle and high schools will perform throughout the event. A DJ also will perform musical entertainment.
Fourth and Delaware streets will be the hub of the event.
The tree again will go up in the downtown pocket park at the northeast corner of that intersection.
Last year was the first year the tree was displayed in the park.
"I just think it's one of the best events that the city has for our kids," Ward said. "Just a great time. It's just a great opportunity for family fun."
It's a Sweet Treat Day Bakery will be open for the festivities, while some other downtown businesses are expected to be open.
The Tonganoxie Public Library will offer a Santa's workshop during a portion of the ceremony. It will run from 3-4:30 p.m. at the library, Third and Bury streets.
The library will have hot cocoa, snacks, "magical" reindeer food and crafts for children.
Hungry visitors to downtown also can head to Tonganoxie United Methodist Church. Local Boy Scouts will have a pancake feed from 5-7 p.m. in the church basement.
Tonganoxie's tree will be lit for the first time this season about 5:30 p.m. with help from a Tonganoxie Elementary School class.
Ward again is partnering with Good Shepherd Thrift Store and Food Bank for a canned food drive. TES students are encouraged to bring in canned goods. The class with the most cans donated gets to assist with the lighting Saturday. A second drive following the lighting will be a contest at TES. The class with the most donations will have a pizza party courtesy of Ward.
This will be the first year the tree will have the backdrop of the new murals in the pocket park. The first mural was painted in September.
The second, which is just north of the tree area, was completed earlier this month on the south side of the Tonganoxie City Council chambers.
This year's event is expected to have an old-fashioned theme.
Entrepreneurs Achieving Success Together spearheaded many activities last year and decorated downtown to resemble Whoville. Last year's had a "Grinch" theme.
City officials are organizing this year's event.