Tonganoxie volleyball: Surviving in Salina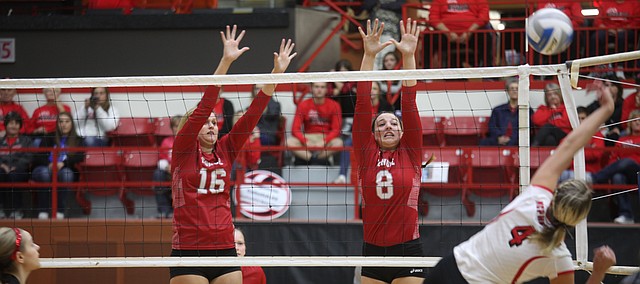 Tonganoxie High still is alive for a state volleyball championship, thanks in large part to a rally for the ages.
No. 4 THS had won its first set against No. 5 Andale, 25-17, but was down 16-1 against the Indians.
"That was a pretty good little chunk of change right there," said THS coach Tiffany Parker.
A 15-point deficit certainly is, but from there on out, the Chieftains were money.
They finished out the set with 24-6 advantage, winning that second set, 25-22.
"We've kind of been that team all year," Parker said, referring to the squad's never-say-die attitude. "Mykah Wingerter played well. Cheyenne Ford played well. When our middles are playing well, it opens up other options for us."
THS took care of No. 8 Wellington in the second match Friday. Wellington led, 15-14, in the first set and was tied with the Chieftains, 17-17, but a 6-0 THS run was too much for the Crusaders. THS won, 25-18, and then finished off WHS in the second set, 24-11.
Parker credited the THS student section for helping the volleyball team on Friday. Roughly 120 students made the nearly 2.5-hour drive from Tonganoxie. The Chieftain student section was one of the more rambunctious fan groups there Friday at Salina's Bicentennial Center.
Parker said her team fed off the student section's energy.
"They gave us a lot of support, Parker said about the THS student body. "They (her team) played for them."
The arena hit a higher sound level when No. 4 Tonganoxie and No. 1 McPherson battled.
Students sections side-by-side, Bullpup and Chieftain fans cheered loudly as the match began, but it was McPherson fans who had the most to cheer about in the first set.
MHS' height and ball placement seemed to give the Chieftains fits. McPherson won the first set, 25-12.
Tonganoxie, though, battled back in the second set. THS had a 5-point lead on several occasions and led, 15-10, at one point. McPherson, though, chipped away at the margin. The game was tied several times late in the match. It was last tied, 20-20, before MHS was able to pull away for a 25-23 victory.
The loss dropped THS to 2-1 on the day and 29-12 on the season, while McPherson went 3-0 in pool play and improved to 37-7 on the season.
Both teams advanced out of pool play and will play in semifinal action, as will No. 2 Louisburg (30-11) and No. 3 Bishop Miege (30-11).
Miege went 3-0 in pool play, while Louisburg finished 2-1.
THS will play Miege at 10 a.m. Saturday in one semifinal match, while McPherson and Louisburg will play in the other semifinal at 11:30 a.m.
The consolation and championship matches will take place after that.
THS is guaranteed to finish in at least fourth place. The Chieftains finished with their highest place in school history in 2007 with a third-place finish.
Parker said her team just needs to continue its mantra of playing fearless in the postseason.
"Somebody's gotta beat Miege, why not us?" Parker said. "Somebody's gotta beat McPherson, why not us? Somebody's gotta beat Louisburg, why not us?"