Tonganoxie party at the net:
THS

soccer routs Bonner, 11-1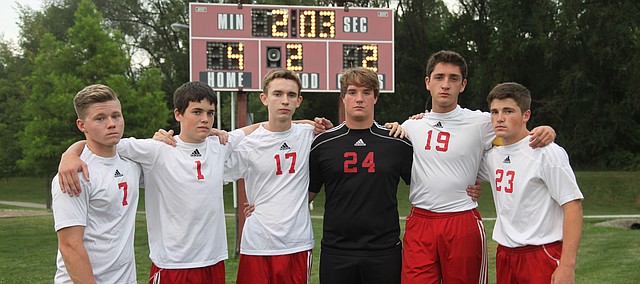 It's a pretty good night on the pitch when seven different players score.
The Chieftains had much to celebrate during Tuesday's 11-1 mercy-rule-shortened victory against Bonner Springs at Chieftain Park.
THS steadily increased its lead throughout Tuesday's game, while limiting BSHS to a score on a penalty kick. THS goalie Alex Kroll tallied seven saves on the night, while Tyler Novotney scored a hat trick with three goals. Logan Williams and Jay Willcutt each added two goals, while Dawson Jones, Alec Richert, Chandler Caldwell and Spencer Finkbiner each scored a goal for THS, which improved to 2-0 on the young season.
Gad Huseman contributed with two assists, Logan Williams with one and Willcutt with another.
Those assists were equally important in the stat book for coach Brian Kroll.
"The one thing I preach so much," Kroll said. "Someone can't score if someone can't get them the ball."
Tonganoxie certainly moved the ball well against Bonner Springs in a game that ended with Finkbiner's score with 8:16 still left on the clock. When a team gets up by 10 goals, the game ends because of the mercy rule.
Kroll was pleased with Tonganoxie's victory Tuesday, saying the team played even better than it did in a 5-1 victory against Baldwin on Friday. He also was excited the team notched its first Kaw Valley League victory of the season.
"It was much better today, but there's still plenty of room for improvement," he said.
Kroll lamented the teammates' communication a few times during the game, including one scoring opportunity when two players were in prime position to take a high-percentage shot.
But it also might be tough to find too many faults in a team that has outscored opponents 16-2 in two contests.
Tonganoxie will continue its early stretch of games on the home field with Thursday's battle against archrival Basehor-Linwood.
Junior varsity begins at 4:30 p.m., with varsity to follow that game about 6 p.m.