High on the hog: Knapp Family Farms to show off pigs on Kaw Valley Farm Tour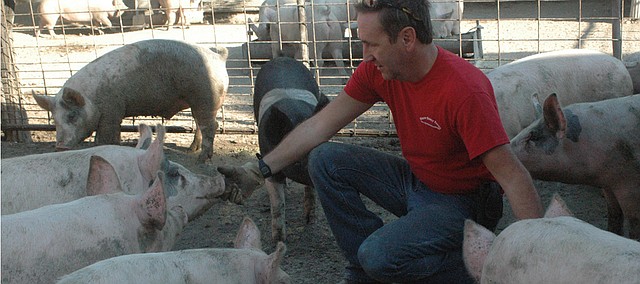 At Knapp Family Farms just outside of Basehor, family members have been raising pigs since 1954.
"And in very much the same fashion — we haven't changed a whole lot," said Gaylen Knapp, who runs the farming business along with his father and in partnership with his brother, Al, who began raising cattle in 1994.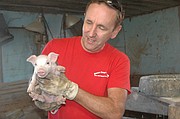 The only difference has been that since they realized they were raising their pigs in a way that today qualifies as "organic" in 2009, they have made the effort to market their pork locally to places like online grocer Door to Door Organics and The Merc in Lawrence. That means instead of having sows birthing all together twice a year, they make sure that two sows are having babies for each month of the year so they can provide pork year-round.
In 2011 and 2012, they showed off their operation during the Kaw Valley Farm Tour, and after a two-year break, they decided to come back to the tour, which is set for this weekend.
"It is a lot of people, and it takes a lot of work the way we do it," Gaylen Knapp said. "We try to make it educational; most people don't know anything about a pig."
For example, the Knapp Farm goes through 150 to 175 pigs per year selling pork meat and by-products, and Knapp said a hog goes from birth to market weight — 250 pounds — in just six months.
"So hogs born in the spring, they aren't going to see the winter," he said. "People just can't comprehend how fast a hog grows, but that's just the normal growth of a hog."
But for they time that they are on the farm, they live in hog heaven. They start out in a small barn with six spacious pens for sows and babies, but as stated previously, only two of those pens are used at one time. The sows are allowed out twice a day for air and exercise.
The babies are moved to another barn called the "nursery" once they are weaned, and as they grow, they are allowed out into a large grazing area to root around for much of the day.
"We do have some people who are a little bummed out who think we raise hogs out in the woods — pasture raised," Knapp said.
Instead, the Knapps raise their own corn, grinding it with locally produced soybean meal from Kaw Valley Feed in Bonner Springs for the pigs' food, and they don't use growth hormones or any other by-products. They go through 4,000 pounds of feed in about 10 days.
They also are certified to meet EPA, USDA and KDA standards both before and after the pigs are processed in De Soto.
For the tour, set both Saturday and Sunday and including 30 other farms, visitors to the farm also will get a "hayride" on a former manure spreader from the pig farm to the cattle farm.
Also included on the tour are Basehor-based Holy-Field Vineyard, 158th and State Avenue, and Bonner-area Manna Meadows, 16842 Metro Ave., and Crum's Heirlooms, 16211 Stillwell. Learn more about the farms at Knappfamilyfarms.com and more about the tour at kawvalleyfarmtour.org.