New
LMH

oncologist joins hospital with background in research, goals for patient care
Heather Cunningham didn't become a doctor on a whim.
Cunningham, the newest medical oncologist to join the staff at Lawrence Memorial Hospital, has wanted to be a doctor since she was young.
She lost her grandmother to cancer when she was a teen, and saw the impact it had on her whole family. And her uncle is a surgical oncologist; she watched him in practice, and before he retired she even had a chance to shadow him in the operating room while she was in school.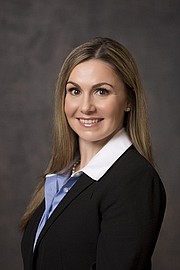 "There was this juxtaposition between seeing a loved one affected by cancer but also seeing a family member treating cancer" that made her feel she could affect patients and their families in a positive way, she said.
So practicing medicine, and specializing in cancer and blood diseases, is a path she seemed destined to take.
Cunningham grew up in California, but her parents are from Illinois, and they thought the Midwest was a good place for their college-bound daughter to go. So she toured a few schools, and Kansas University stuck — in part, she said, because of the kindness of the people here. And it's one of the things that has kept her here since she left the West Coast.
Cunningham comes to LMH out of her hematology and oncology residency at KU Med Center. During her residency, she did laboratory research on CCR7, a gene that has been studied in relation to pediatric T-cell acute lymphoblastic leukemia as well as having a possible role in metastatic breast cancer.
"We actually came up, in conjunction with a lab in Cambridge, Mass., with an antibody targeting that gene receptor to prevent or decrease the leukemic cells from going into the brain in pediatric patients," she said.
The research is ongoing and not yet FDA approved, but she feels lucky to have been part of it.
"It's affecting more than one type of cancer," she said. "You're talking about adult and pediatric potential targets, but also a hematologic disease and a cancer disease too.
"(It's) exciting to be a part of what hopefully will become a solution in cancer and cancer treatment."
She is interested in the targeted therapies that are possible now that weren't possible even 15 years ago.
"It's an exciting time as a provider to be a part of oncology because we literally by the month are having more that we can offer patients," Cunningham said. "We're studying the cancers and the tumor types in a way that we didn't before."
While she was getting her undergraduate degree, she volunteered at LMH in the Emergency Department. Meeting doctors and staff during that time helped her make the decision to join the staff at LMH and transition her skills from academic research to clinical patient care.
She was impressed with the setup of the oncology department, which was designed to give patients individual privacy for treatment and exams.
"When I came back in January to tour the clinic here, just, you know, the patients have their own private rooms, the nurses are so dedicated to patient care, I think administratively LMH is a great hospital. So I think top to bottom I was impressed with the quality of care here."
Cunningham strives to learn about her patients — their stories and experiences — because it can color their decisions in terms of treatment.
She wants patients to ask questions, bring friends and family, and to know she is available to answer those questions.
"I believe that a person, a patient and an individual, is bigger than their disease," she said. "I think someone is bigger than their diagnosis."