Teeing off with Tonganoxie High golf
Chieftain golf team returns full squad for 2016 season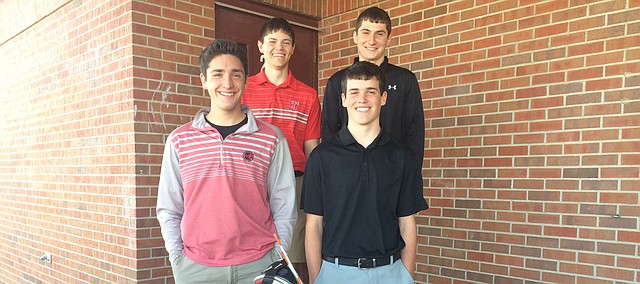 The winter weather spell came and went Easter weekend, but the snow spurt hasn't hindered Tonganoxie High golf in the early going of the season.
THS had been practicing the last few weeks and has gotten a good amount of work in on various area golf courses in preparation for the new season.
Tonganoxie opened the season Thursday by traveling to Sunflower Hills Golf Course in Bonner Springs to compete in the first tournament of the year.
Junior Matt Scharff medaled with a score of 88, helping the team to a second-place finish at the tourney, which Bonner Springs High School hosted.
It was a good start to the season, according to THS coach Doug Sandburg.
"If we can put some hard work in, there is no reason we can't make at splash at the regional tournament and make a run to make it to the state tournament," Sandburg said. "I hope we can set a new standard for Tonganoxie golf and shave about fifteen strokes from our team score throughout the year."
Tonganoxie's next tournament is today at the Prairie Highlands Golf Course in Olathe for the Mill Valley Invitational. On Monday, the squad competes at the Leavenworth Country Club for the Lansing Invitational.
Tonganoxie graduated no seniors last year and returns for golfers for their final campaigns this spring: seniors Noah Arthuad, Gage Hendrix, Dawson Jones and Ben Lanza. THS finished the 2015 season with a sixth-place finish at a 10-team Class 4A regional where it started the 2016 season: Sunflower Hills Golf Course.
Scharff also shot an 88 that day in leading the Chieftains, while teammate Heath Martin finishing with a 98.
THS also placed fourth at the Kaw Valley League meet last year at Eagle Bend Golf Course in Lawrence with a 370. Lanza and Scharff led the team with each scoring an 89. Martin shot a 95 and Arthaud a 97.
A week after the Lansing Invitational, THS will compete April 18 at Village Greens Golf Course in Ozawkie for a meet Topeka Hayden is hosting. On April 21 the team heads to Sycamore Ridge Golf Course for a meet in Spring Hill and April 28 at Bellevue Country Club in Atchison.
On May 9, the team is off to Junction City for a meet at Rolling Meadows Golf Course and May 9 competes in the Kaw Valley League meet at Eagle Bend Golf Course in Lawrence. Piper will be the host for a May 16 4A regional at Dub's Dread Golf Course in Kansas City, Kan. Other teams joining Piper and THS are Atchison, Baldinw, Basehor-Linwood, Bishop Miege, De Soto, Louisburg and Spring Hill.
State is May 23 at Bentwood Golf Course in Ulysses.